Dubai, UAE, 10th May 2023, ZEX PR WIRE, Bitunix is a professional crypto exchange serving users around the globe. Bitunix offers a variety of services including buying and selling that cater to anyone. Bitunix provides functions for trading and tracking the current price and trends for its listed cryptocurrencies such as BTC, ETH, SOL, PEPE and more. As an exchange, it offers derivatives where traders can both go long or short.
Register on Bitunix
Before trading on Bitunix, you need to register first. Simply open Bitunix's website, and follow the instructions on the page by entering your email address, phone number and password. After completing the verification with the code sent to your email or phone number, your Bitunix account is ready. 
Deposit Your Asset into Bitunix
After the account registration, you will need to deposit your digital assets into your account before you can trade. Bitunix allows you deposit your assets from your wallet or other exchanges through many major blockchain networks, including Omni, Tron, Ethereum, Solana, BSC and more, depending on your asset.
Follow these steps to deposit:
Click "Deposit" under "Assets" on the top right of the page;
Select the asset you are going to deposit, then select the network;
Go to the withdrawal page of another exchange or your wallet, enter the address shown on the page, or scan the QR code;
Remember, it is very important that the cryptos name, transfer network and deposit address are correct and consistent.
Trade on Bitunix
Spot trading is also known as crypto to crypto trading, which means you are selling one crypto for another. Ususally, you are selling your USDT for the crypto you are willing to buy depends on the trading pair. After your account registration and a successful deposit, it's time to start trading your favorite cryptos. Simply click "Trade" on top of the Bitunix website, to enter the spot trading page.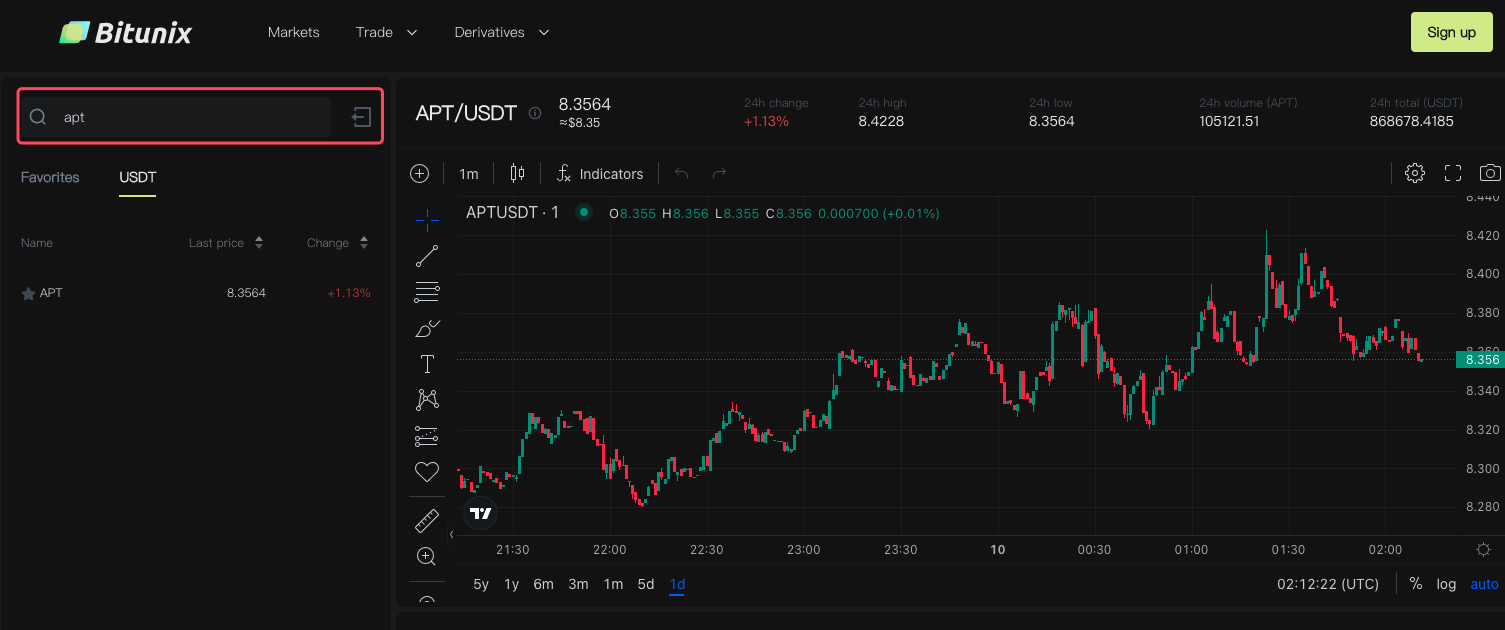 Search for any cryptos such as $PEPE, $BTC, $ETH and over 150 other cryptos listed on the left side of the page. Then, enter the price and the amount of the crypto, and click "Buy" at the bottom to place your buy order. You can find your order in the orderbook or under open order if it's not filled right away. Once the order is filled, your balance changes as you will receive the amount you entered in your order.
Selling your cryptos is very similar: you are trading your cryptos for USDT. Just enter the price and the amount you are willing to sell, and then click "Sell" to place your order.
Perpetual Futures for Professional Traders
As a derivative exchange, Bitunix offers USDT-Margined perpetual futures tradings. Perpetual futures, or perpetual swaps, are one of the most popular crypto derivatives on the market, which allows traders to amplify their earnings with very little margins with leverage. 
To start perpetual futures trading, firstly you need to transfer your funds from your Spot Wallet to Futures Wallet in the wallet. Then, click "Futures" under "Derivatives" on the top of your screen open perpetual futures trading page.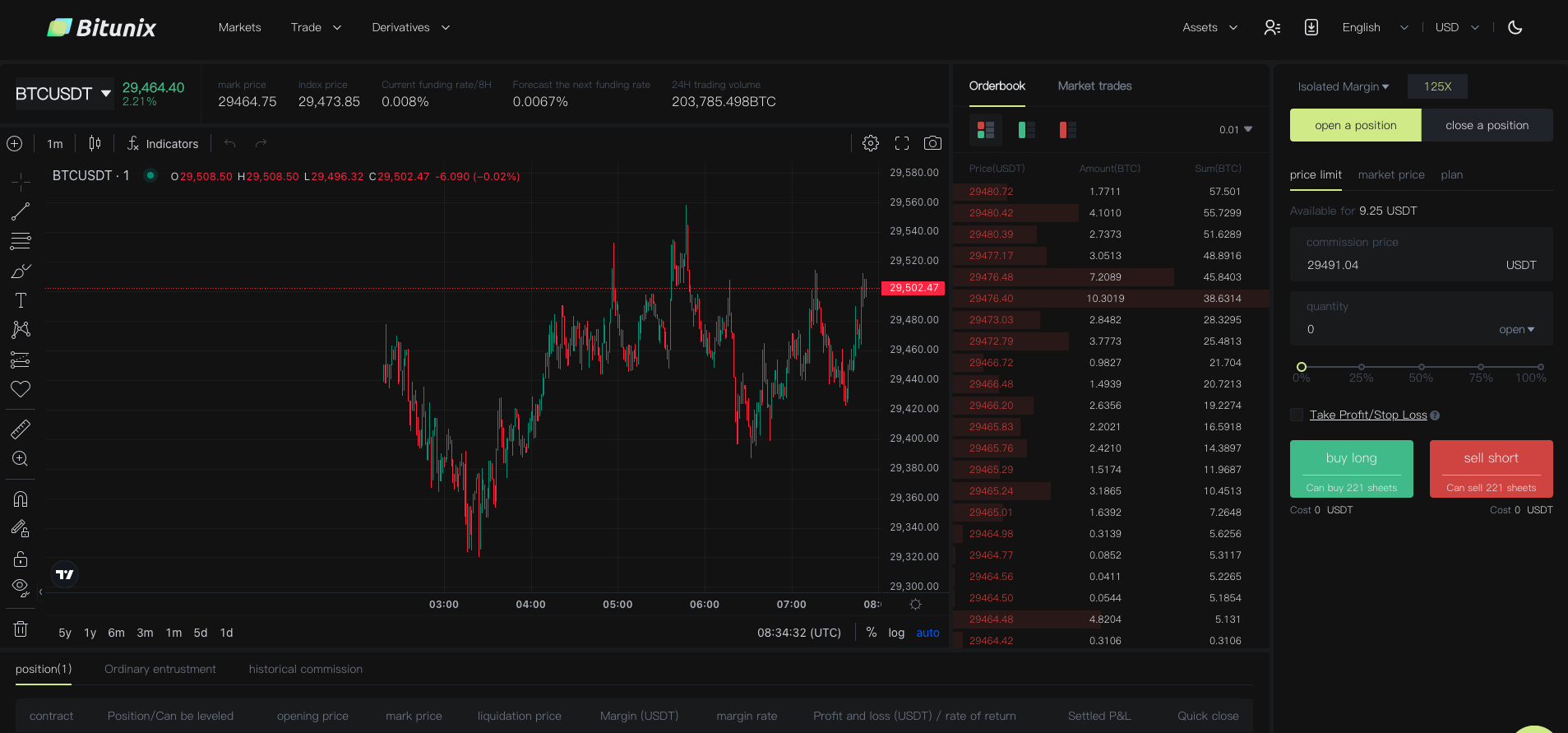 You can search for the trading pair on the left side of the screen, just like spot trading. Then, select the margin mode and leverage you are going to use. Enter the price and the amount, click Buy or Sell to open your position. Perpetual futures allow traders to long or short the cryptos.
Frequently Asked Questions
Q: What is cryptocurrency?
A: Cryptocurrency, or crypto, is a digital or virtual currency secured by cryptography built on blockchain. Bitcoin, ethereum, dogecoin are all cryptocurrencies.
Q: What is Bitcoin?
A: Bitcoin (BTC) is a crypto, or a virtual currency designed to act as money and a form of payment outside the control of any one person, group, or entity, thus removing the need for third-party involvement in financial transactions.
Q: What is Bitunix?
A: Bitunix is a professional crypto exchange that offers spot trading and perpetual futures trading.
Q: Is Bitunix a decentralized or centralized exchange?
A: Bitunix is centralised exchange for cryptocurrencies, meaning that Bitunix administers its users' deposits and transactions. Centralized crypto exchanges are suitable for both novice and experienced investors.
Q: What is the smallest amount that I can trade on Bitunix?
A: The minimum order size of spot trading must be at least $10 in value.
Q: Is Bitunix exchange safe or legit?
A: Bitunix exchange has become a U.S. MSB registrant in late 2022 and received the SEC compliance license in the Philippines in February 2023. It also implies a multi-cluster, multi-layer security system that protects it from malware and other cyber intrusions.
About Bitunix
Founded in November 2021, the professional crypto derivative exchange Bitunix has developed steadily, as it became a U.S. MSB registrant in late 2022 and received the SEC compliance license in the Philippines in February 2023. Then it officially received $10 million in funding to fully open its global market business, with offices established in Dubai. Bitunix is now expanding its team to Latin America, Asia, and Africa, as well as Turkey, Russia, and other regions where the cryptocurrency market is growing rapidly. Bitunix aims to provide a better product experience for millions of users,aiming to become the safest crypto derivatives exchange for users. 2023 will be a year of significant transformation for Bitunix.
The Post A Complete Tutorial to Bitunix Crypto Exchange first appeared on ZEX PR Wire

Information contained on this page is provided by an independent third-party content provider. Binary News Network and this Site make no warranties or representations in connection therewith. If you are affiliated with this page and would like it removed please contact [email protected]