Garden City, NY, 28th September 2023, ZEX PR WIRE, Bestselling authors Dr. Raghavendra Hunasgi and Priyanka AB Brahmbhatt illuminate the path to effective marketing in their latest book.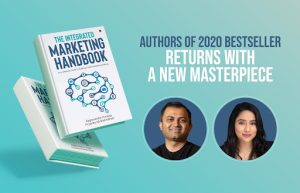 Renowned for his transformative insights into marketing and growth, the bestselling author and co-founder of Zeebu, Dr. Raghavendra Hunasgi, is set to captivate readers once again with a powerful new addition to the world of marketing literature. His new book, "The Integrated Marketing Handbook: Your Ultimate Guide to Building a Killer Marketing Strategy," promises to be a compelling resource for those seeking to revolutionize their marketing approach. The book is co-authored by Priyanka AB Brahmbhatt, a dynamic entrepreneur, visionary thinker, and accomplished author whose innovative ideas and strategic insights have been instrumental in shaping the narrative of this compelling work.
Dr. Raghavendra Hunasgi is a recognized expert in the fields of marketing and branding. His debut book, "Unleashing Growth: 15 Growth Marketing Hacks Every Entrepreneur Should Know," which provides invaluable insights into growth marketing, was hailed as a bestseller in 2020 in the business, management, and entrepreneurship categories. His expertise and innovative approach have made him a sought-after voice in the industry.
In "The Integrated Marketing Handbook," Dr. Raghavendra Hunasgi, along with co-author Priyanka Brahmbhatt, presents a comprehensive guide to maximizing marketing reach and effectiveness by integrating various strategies. The book is a treasure trove for marketers and entrepreneurs, offering an in-depth exploration of inbound, outbound, and account-based marketing techniques. Each strategy is explored in depth, from attracting customers through content creation in inbound marketing to reaching out to customers through various forms of advertising in outbound marketing and building relationships with key accounts in account-based marketing.
Dr. Hunasgi's expertise in marketing and branding is evident as he provides practical advice on how to effectively integrate these strategies. The book serves as a practical guide, offering insights on aligning messaging, targeting the right audience, and measuring success to maximize results in today's competitive environment.
"As an author, my passion has always been to delve into the diverse aspects of marketing and growth strategies. My previous book, 'Unleashing Growth,' provided readers with proven systems for growth marketing, and now with 'The Integrated Marketing Handbook,' I invite readers to join me on a journey through the complex world of integrated marketing. It's an honor to share these insights and experiences with my readers," says Dr. Raghavendra Hunasgi.
Priyanka Brahmbhatt adds, "'The Integrated Marketing Handbook' is designed to resonate with a broad audience, captivating both those familiar with our previous work and those encountering our writing for the first time. We believe that this book will serve as a valuable resource for anyone looking to enhance their marketing strategies."
With these powerful insights from both authors, 'The Integrated Marketing Handbook' is set to be a game-changer in the world of marketing literature. Those interested in securing a copy will find it readily available on Amazon: https://amzn.eu/d/flBGt0T. For media inquiries, interviews, and speaking opportunities, you can reach out to Dr. Raghavendra Hunasgi on LinkedIn.
About Dr. Raghavendra Hunasgi
Dr. Raghavendra Hunasgi is a globally recognized expert in marketing and branding. He is the co-founder and chief marketing officer of Zeebu, a pioneering on-chain B2B invoice settlement platform. His strategic insights have been instrumental in guiding Fortune 500 companies to success through insight-driven marketing. A globally-renowned entrepreneur, published author, and in-demand speaker at TEDX and conferences around the globe. He is a 21st-century leader and influencer whose words and work in the field of marketing and branding are helping organizations leapfrog to the next level. He is ranked amongst the top 100 CMOs in the world. He speaks and writes enthusiastically about brand strategy, entrepreneurship, product innovation, growth marketing, and sales. His work has been published in the Wall Street Journal, Forbes, Entrepreneur Magazine, and more.
About Priyanka Brahmbhatt
Priyanka AB Brahmbhatt is a visionary corporate governor and thought leader currently working as the executive board member for the Bankai Group of Companies. She is also a UNSDG advocate, a Forbes U 30 nominee, a Forbes NY Council member, an author and philanthropist, and a motivational speaker. She has led several narratives, especially in the tech space on gender equality and equity. She is a Data-Driven Marketeer by education and passion, holding a gold medal from the National Marketing Honor Society.
The Post Bestselling Author Returns with a New Marketing Masterstroke first appeared on ZEX PR Wire

Information contained on this page is provided by an independent third-party content provider. Binary News Network and this Site make no warranties or representations in connection therewith. If you are affiliated with this page and would like it removed please contact [email protected]