Dubai, UAE, 17th October 2023, ZEX PR WIRE, Biocube Matrics, a.k.a. Biocube Technologies Ltd., is exhibiting its contactless multi-factor, multimodal biometric identity solutions at the ongoing GITEX Global 2023 event, taking place at Dubai World Trade Centre between October 16-20.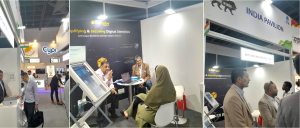 The company's visionary founder, Mr. Subodh Narain Agrawal; President, Mr. Ashutosh Agarwal; and VP, Product & Strategy, Mr. Indranil Paul; are present at Biocube booth in the event and showcasing the solution to GITEX attendees.
About GITEX Global 2023
The GITEX Global 2023 event is one of the world's largest tech and startup events happening in Dubai, with more than 6,000 global companies, including 3500+ AI startups and enterprises. The magnanimous convention will have 900+ investors, 500 hours of AI debates, more than 40 workshops, and 800+ hours of content.
The GITEX Global event of this year, centered around the theme "The Year to Imagine AI in Everything," aims to explore the profound impact of artificial intelligence on a worldwide scale.
About Biocube
Biocube is a US-based Identity Management company revolutionizing identity authentication. The enterprise redefined identity verification with its first and only biometric identity platform in the world that is genuinely Contactless, Multi-Factor, and Multimodal and has integrated Data Analytics, developed in India.
Based on the years' of research & development of this cutting edge technology platform, Biocube offers cost-effective solutions, eliminating the need for specialized biometric hardware. Moreover, multimodal products and services employ advanced multifactor verification technologies to overcome the limitations of traditional biometric methods. These capabilities enable stakeholders to reduce occurrences of frauds through passive liveness detection, contactless identification, and analytics.
The solution, in particular, provides a range of analytics, such as activity tracking, document verification, and active time monitoring. Recent system enhancements now enable swift identification of individuals among large databases using image-based, 1:N approaches.
Biocube's advanced technology provides enhanced security against spoofing and can operate without an internet connection. In summary, Biocube offers state-of-the-art solutions compatible with modern devices, enhancing both security and user experience to new heights.
Our Products and Services
Biocube offers a wide array of cutting-edge technologies aimed at fostering trust and security in business-user relationships. At the heart of our solutions, we harness advanced computer vision and image processing capabilities driven by deep neural networks for swift and efficient computation. Our offerings also encompass multilingual speech recognition, passive liveness detection, and multi-face recognition within a single frame, among other remarkable features.
One of our recent achievements is Video Analytics, an AI-driven system that transforms the automated monitoring of video streams. Utilizing big data pipelines and processing engines, this solution conducts real-time analysis by breaking down video feeds into image frames and converting them into text for clear interpretation. It also incorporates logic-based real-time alert triggering, enabling proactive and timely responses.
To ensure the highest level of security, we have developed a robust SaaS product stack fortified with Distributed Data Architecture (DDA), AES 256 encryption, and compliance with HIPAA, SOC-2, and GDPR regulations. This empowers businesses to facilitate both online and offline transactions confidently.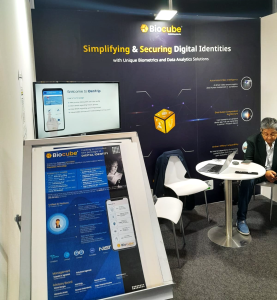 Biocube's extensive product lineup and services are revolutionizing security and convenience across 12 major industries, including IDaaS, BioKYC, IDenTrip, TruNtrance, and AttendFy. Join us as we pave the way for a new era of security and redefine the possibilities for businesses worldwide.
IDenTrip
Your experience flying will be transformed by IDenTrip, a bio-identification solution from Biocube. Our interoperable, secure biometric multifactor solution helps travelers create a smooth onboarding experience by eliminating long lineups. Your ability to spot AMLs and PNPs will put you at an edge over other tour guides in the eyes of your customers.
BioKYC
To ensure a smooth onboarding process using AI-based digital KYC, use Biocube's Bio-KYC. Our self-service KYC, ID validation and liveness check-based solutions make the account opening procedure quick and easy. The integrated multifactor BioSignatures enable easy onboarding and further assurance that the customer journey, including transaction validation and payments, is safe and fraud-free.
TruNtrance
Boost the security and safety of digital access management by using TruNtrance from Biocube. Detecting liveness, location, and timestamps are all part of our self-service, spoof-proof system for controlling access and attendance. Working with edge devices is the AI-driven, network-independent answer.
Intelligent Video Analytics
Going beyond standard Optical Character Recognition (OCR) capabilities, Video Analytics provides valuable insights for crowd management, object tracking, and traffic and parking assistance. With our expertise in computer vision, speech AI, and big data analytics, our solutions redefine the potential of digital identities.
Bio-Visa
Expedite the process of visa applications by using Biocube's Bio-Via. Eliminating paper trails from the visa application process, our entire mobile-based solution lowers impersonation fraud. The self-service system comprises multifactor biometric authentication, AI-based ID verification, liveness detection, financial data checks, and liveness assessment. By speeding up the visa application procedure, the information enhances the efficiency of air travel.
Get a live demo of Biocube's state-of-the-art contactless biometric identity solutions at the ongoing GITEX Global 2023 event between October 16-20 at hall 13, booth number A30-5, India Pavilion, Dubai World Trade Centre, Dubai.
The Post Biocube showcases Next-gen, World's first, patented, AI powered, Contactless Multifactor biometrics technology at GITEX Global 2023 first appeared on ZEX PR Wire

Information contained on this page is provided by an independent third-party content provider. Binary News Network and this Site make no warranties or representations in connection therewith. If you are affiliated with this page and would like it removed please contact [email protected]