Novosibirsk, Oblast de Novosibirsk, Russia, 11th Sep 2023 – The cryptographic landscape is rapidly advancing, bringing forth new horizons and challenges. At the heart of this advancement is Cellframe Network, a quantum-proof blockchain ready to shape the Web 3.0 ecosystem.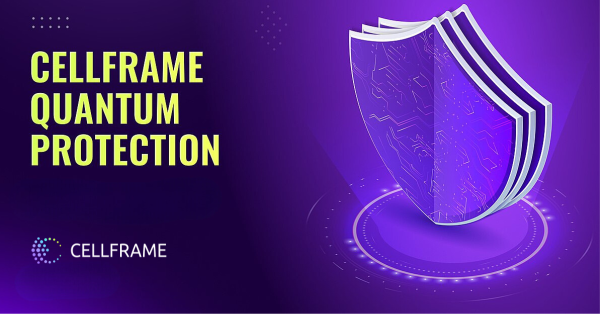 First: What is Cellframe Network?
Cellframe is not merely another blockchain. Imagine a digital universe where conventional network infrastructures are interconnected through a robust, resilient superstructure. This is Cellframe. Its mission is to establish a network that not only ensures maximum security through its resistance to potential quantum attacks but also redefines scalability and interoperability in the cryptocurrency space.
Its architecture is tailored for the quantum age, employing advanced algorithms and cryptographic solutions to guard against the growing threat of quantum computers. Moreover, Cellframe is modular, allowing integrations and customizations as per specific needs, making it versatile for a wide array of applications.
Beyond being just a blockchain solution, Cellframe is a complete ecosystem. Its innovative design allows for high transaction rates through the use of two-tier sharding. This approach ensures not just the efficiency of the Cellframe network but also assures harmonious integration with other blockchains and services, paving the way for the true vision of Web 3.0.
Second: How does Cellframe Network work?
Through its unique architecture, Cellframe Network operates through a unique combination of quantum-resistant technology and innovative features. It utilizes a multilayer blockchain architecture to enhance transaction privacy, scalability, and efficiency. The network also incorporates Fog Computing, which decentralizes data processing, ensuring a secure and scalable environment.
Another notable feature is the integration of the Multi-Party Computation Protocol (MPC). With it, Cellframe doesn't merely promise interoperability; it delivers by connecting to renowned blockchains like Ethereum, Polkadot, Cosmos, and Sola
Third: Why Cellframe Network?
As the digital landscape teeters on the brink of a quantum epoch, an existential threat looms. This imminent quantum age could cripple current cryptographic systems, exposing the vulnerabilities ingrained in much of today's crypto-architecture. It's not just about potential chaos; it's the unraveling of the trust we've placed in the digital shields of our current blockchains. But from this precipice of uncertainty, Cellframe Network emerges, not as just another contender, but as the sole guardian. Cellframe isn't an option amongst many; it's the singular beacon in a post-quantum world, the only available quantum-resistant network. Beyond its advanced technological prowess, Cellframe offers its users rewarding opportunities.
A Token of Tomorrow:
At the heart of Cellframe's ecosystem lies the CELL token, embodying potential and opportunity. It doesn't just fuel the Proof of Stake consensus rewards but also powers Cellchain auctions and leases, alongside value transfers.
Conclusion:
Visionary problem-solving. Immediate use cases. Cellframe encapsulates these elements, leading as a standard-bearer in the blockchain domain. For those eager to be part of this evolving narrative, the message is clear: Join their vibrant global community and explore their primary portal, the website, to grasp the expansive universe that is Cellframe.
Step into a world of innovation, security, and opportunity.
Follow Cellframe Network and learn more:
Marketing Partner:CrMoon
Website: https://bit.ly/Cellframe
Telegram: https://bit.ly/tgCellframe
Telegram Brasil: https://bit.ly/PtBrCellframe
Twitter: https://bit.ly/xCellframe
Media Contact
Organization: CellFrame
Contact Person: Dmitriy Gerasimov
Website: https://cellframe.net/
Email: [email protected]
City: Novosibirsk
State: Oblast de Novosibirsk
Country: Russia
Release Id: 1109236280
The post Cellframe Network: Pioneering a Quantum-Resistant Tomorrow in the Blockchain Realm appeared first on King NewsWire. It is provided by a third-party content provider. King Newswire makes no warranties or representations in connection with it.
Information contained on this page is provided by an independent third-party content provider. Binary News Network and this site make no warranties or representations in connection therewith. If you are affiliated with this page and would like it removed please contact [email protected]
Information contained on this page is provided by an independent third-party content provider. Binary News Network and this Site make no warranties or representations in connection therewith. If you are affiliated with this page and would like it removed please contact [email protected]