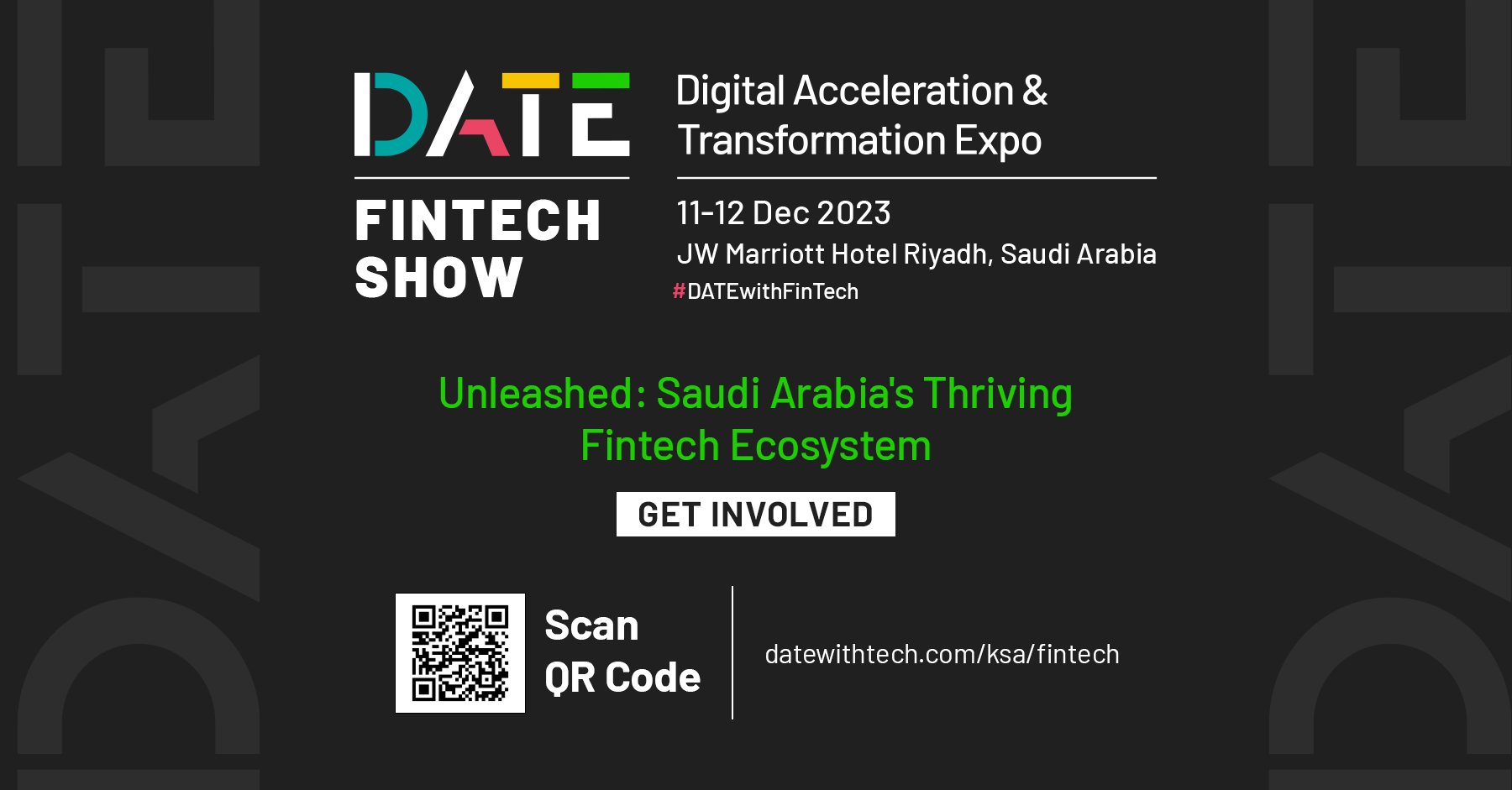 DATE Fintech Show, co-located with DATE AI Show, will be held on December 11th and 12th, 2023 in Riyadh bringing together leading financial experts, policymakers, investors, and innovators to come together and chart the course of Saudi Arabia's Fintech revolution.
Dubai, UAE, 16th October 2023, ZEX PR WIRE, With the MENA region amid its economic diversification journey, Fintech emerges as a core sector driving transformation. According to a Mordor Intelligence report, Saudi Arabia's fintech sector is projected to grow from US$ 39.04 million in 2023 to US$ 69.23 million by 2028, with a CAGR of 12.14%.
DATE Fintech Show, co-located with DATE AI Show, is scheduled to take place at the JW Marriott Hotel in Riyadh on December 11th and 12th, 2023. The two-day event hosted at the prestigious JW Marriott Hotel will bring global fintech innovators, industry leaders, investors, and policymakers together to help reshape the fintech ecosystem in the Kingdom by showcasing the latest transformative innovations and fostering a spirit of innovation.
As the sector maintains its expansion, Saudi Arabia is poised to establish itself as a significant player among the prominent fintech ecosystems in the MENA region. Presently, there are more than 147 fintech startups operating within Saudi Arabia, aligning with its goal of hosting 525 active fintech companies by 2030.
With the latest innovations and rapid adoption of fintech solutions in the region, this one-of-a-kind event will provide a platform for both traditional and non-traditional players to learn about the latest trends and navigate the current challenges while driving the sector toward unprecedented growth.
Naveen Bharadwaj, Group CEO of Trescon, while sharing his excitement about the event, said, "In today's evolving technological landscape, embracing smart solutions isn't an option anymore but essential to survival. The growing innovation climate in the MENA region sets the perfect foundation for Saudi Arabia to propel its economy forward. At the DATE Fintech Show in Riyadh, we delve into the transformative impact of Fintech solutions, reshaping Saudi Arabia's financial future.
Notable speakers present at the event include:
Dr. Wissam Fattouh, Secretary General, Union of Arab Banks
Fadi Ghandour, Executive Chairman, Wamda
Aiedh Al-zahrani, Chief Operating Officer, Arab National Bank
Essam Al Bakir, Chief Executive Officer, Ejada capital
Issa Nasser Al Issa, Chief of Business Development, Wamid (Tadawul – Saudi Exchange)
Alain Godard, Chairman & Managing Director, European Digital Sovereignty FundJessica Renier, Managing Director, Digital Finance, Institute of International Finance
Hubertus Väth, Managing Director, Frankfurt Main Finance e.V.
Jonathan Larsen, Chief Executive Officer, PingAn Global Voyager Fund
Monica Brand Engel, Managing Partner, Quona Capital
Dr. Jonathan Doerr, Partner, Antler
Bryan Stirewalt, Senior Managing Director, K2 Integrity
William Bao Bean, Managing Director, Orbit Startups
Dr. Fatmah Baothman, Board President, AI Society
The DATE Fintech Show is supported by:
Don't miss the chance to get involved with the DATE Fintech Show in Riyadh on 11th and 12th December 2023 at JW Marriott Hotel in Riyadh. Take the opportunity to network, collaborate and explore the latest innovations that are transforming the global fintech sector. To know more about the event, visit our website: Datewithtech.com/ksa/fintech
About Trescon:  
Trescon is a pioneering force in the global business events and services sector, driving the adoption of emerging technologies while promoting sustainability and inclusive leadership. Its summits, expos, and conferences create real economic impact by connecting and empowering key stakeholders, including government organizations, regulators, enterprises, corporates, and more. With a team of over 250 employees across offices in 6 countries, Trescon has helped clients achieve exponential growth, accelerate market entry, and build valuable partnerships. For more information about Trescon, visit: www.tresconglobal.com

للتواصل والشراكات والتغطيات الإعلامية يرجى التواصل مع:
أخوكم شادي ضاوي
مدير إدارة العلاقات العامة والشراكات الإستراتيجية والإتصال الحكومي
(أيضا إعلامي متخصص في التكنولوجيا وعضو نادي دبي للصحافة)
شركة تريسكون العالمية لإستشارات إدارة الفعاليات الحكومية والمؤسساتية
+971 55 498 4989
For media partnership or coverage or any inquiries please get in touch with Above mentioned information.
The Post DATE Fintech Show: Scripting a new chapter in Saudi Arabia's Fintech Revolution first appeared on ZEX PR Wire

Information contained on this page is provided by an independent third-party content provider. Binary News Network and this Site make no warranties or representations in connection therewith. If you are affiliated with this page and would like it removed please contact [email protected]