Nashville, Tennessee, 29th October 2023, ZEX PR WIRE, The 2023 People's Choice Country Awards, held in the iconic Grand Ole Opry in Nashville, celebrated the biggest names in country music, but this year, it also shone a spotlight on the industry's rising stars. The event, a mecca for country music enthusiasts, gathered musicians, celebrities, and fans to honor the best of the genre. At this year's awards ceremony, all eyes were on Tayler Holder, the most-followed country artist on TikTok, as he discussed his transition into country music and his highly anticipated tour with country sensation Dylan Scott.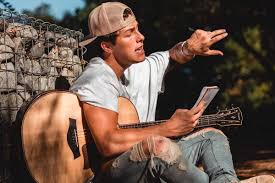 The Grand Ole Opry, steeped in country music history, provided the perfect backdrop for this year's People's Choice Country Awards. The event was attended by a who's who of country music, from legendary performers to the freshest voices in the industry. Tayler Holder, known to many as a social media influencer, has been making waves in the country music scene. As the most followed country artist on TikTok, Holder has garnered a massive and dedicated fan base. In an exclusive interview during the awards ceremony, Holder opened up about his journey into country music.
"I've always loved country music, and it's a big part of who I am," Holder explained. "I've been blessed with the opportunity to share my passion for country music with my fans on TikTok and social media. The response has been incredible, and it's inspired me to take my music career to the next level."
Holder's passion for the genre has led to the release of his latest country single, "Someone You Knew." The song has quickly gained traction, and fans are eagerly awaiting more music from the artist. During the interview at the People's Choice Country Awards, Holder expressed his excitement about the song's reception and what lies ahead in his music career.
"I can't thank my fans enough for the support they've shown for 'Someone You Knew.' It's a song that's very personal to me, and it's just the beginning of what's to come," he shared.
In addition to discussing his foray into country music, Tayler Holder made a major announcement at the awards ceremony. He revealed that he would be embarking on a tour alongside renowned country artist Dylan Scott. The duo's tour is set to kick off this Fall and promises to be a memorable experience for country music fans across the nation. "I'm thrilled to be going on tour with Dylan Scott. He's an incredible talent, and I can't wait to share the stage with him. We've got some amazing shows lined up, and it's going to be a fantastic experience for our fans," Holder stated.
The People's Choice Country Awards has always been a platform for recognizing emerging talents, and Tayler Holder's journey from social media influencer to country music artist is a testament to the industry's ever-evolving landscape. As the most-followed country artist on TikTok, Holder's success reflects the power of social media in connecting artists with their fans. The 2023 People's Choice Country Awards was a night to remember, highlighting the diverse talents and stories within the country music community. Tayler Holder's interview and his upcoming tour with Dylan Scott are just two of the many exciting developments in the genre. Country music enthusiasts can look forward to more groundbreaking moments as the industry continues to evolve.
About Tayler Holder
Born on August 19, 1997 in Alvarado, Texas, Tayler Holder grew up in a family that valued hard work and perseverance. His love for music began at a young age, and he quickly developed a talent for singing and playing guitar. Tayler Holder has always been an entertainer. At just 3 years old, Tayler began competing in motocross, an interest that Tayler still holds to this day, but which is more of a hobby now. After finishing high school, Tayler moved to California to follow his dream of being an entertainer. He started creating content for Instagram and Musical.ly, and his popularity quickly grew on the platforms with his viral lip sync videos and daily lifestyle content. With the online series DIRT, Tayler Holder then launched his acting career playing the main character Luke, who deals with love and addiction and draws on Tayler's experiences with motocross. After joining TikTok, Tayler quickly grew to millions of followers on the platform, continuing to create viral content, Tayler releases new music and performs at live events and festivals across the country. 
Today, Tayler Holder continues to create lifestyle content for his fans on social media, but he is now focusing a majority of his energy on his music career as things are quickly taking off for this talented singer-songwriter. Having moved to Nashville, Tennessee, has helped Tayler as he focuses on his country music career. In 2023, Holder was named Male Artist of the Year and Artist of the Year by Up N Country, a well-known country music outlet dedicated to promoting the best and brightest in the genre. He has recently become the most followed country music star on TikTok. Despite his success, Tayler remains humble and grounded, and is grateful for the support of his fans and family. He credits his Texas roots and his love of traditional country music as the driving forces behind his success.
The Post People's Choice Country Awards Interviews Tayler Holder, the Most Followed Country Music Artist on TikTok first appeared on ZEX PR Wire

Information contained on this page is provided by an independent third-party content provider. Binary News Network and this Site make no warranties or representations in connection therewith. If you are affiliated with this page and would like it removed please contact [email protected]