Los Angeles, California, 26th August 2023, ZEX PR WIRE, Dr. Vijay Naik created Survivors Course with the understanding that becoming a medical professional is no easy feat, and aspiring doctors and physicians must be prepared to face numerous challenges on their journey. One of the biggest hurdles that can scare even the most dedicated students is the United States medical license examination. The difficulty level of this exam can feel daunting, especially without the right support and resources. However, students need not fear, as Dr. Naik of Survivors Course is here to offer personalized guidance and help students navigate this formidable task. With access to a wealth of high-quality resources and up-to-date information, Dr. Naik uses a personalized approach to ensure that students have the tools and skills they need to succeed. Dedication, perseverance, and the ability to tackle challenges head-on are all essential qualities on the path to becoming a successful medical professional, and with Dr. Naik's guidance, students can be confident in their abilities to pass this exam and achieve their dreams.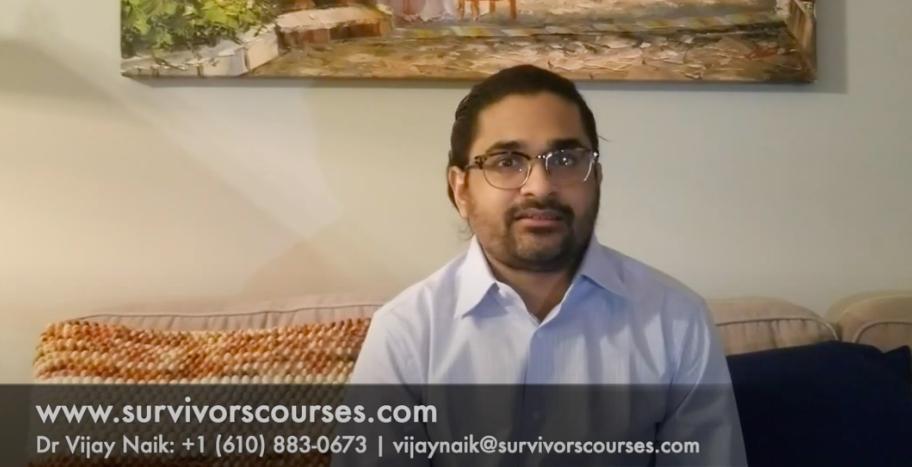 Survivors Course program is designed to be student-oriented, this course provides essential practice materials and personalized study plans that are tailored to each candidate's unique needs. What sets the Survivors Course apart is its commitment to keeping pace with the ever-changing medical industry. With regularly updated lessons and a supportive community of professionals, Dr. Naik's program is a trustworthy choice for anyone preparing to take the USMLE. 
Previous students have reported that this course greatly helped them pass the exam, so if you're looking for a successful and effective way to prepare, the Survivors Course may be just what you need.
Here are some previous students reviews: 
This 6-week online course always kept me engaged and was supplemented very well by the textbook.  The course helped me improve on my step 2ck score immensely and I will return to this course for step 3.  I only wish I had known about this course for step 1.  course really seemed to care for the students and helped me excel.  I would highly recommend the course to anyone who is studying for his or her steps.
–Sinthuja Jayaraj
All students should experience this course.  He teaches in a manner that retrains your mind to approach clinical vignettes with a stronger, clearer understanding of the foundations of medicine. This method simplifies concepts that initially seem to be "complicated" and builds confidence in our abilities to excel.  I have seen a big jump in my performance on UW and NBMES in preparation for my STEP 2 CK exam and a 22 point increase on my actual CK exam. He absolutely takes care of his students at an individual level catering to the student's academic weaknesses and turning them into strengths. He keeps in touch with students even after the course is complete making sure they are more than prepared before taking their exams. Classes fly by making the course very entertaining and humorous- a technique that helps to ease stress and remember concepts better. Thank you for inspiring us all and I hope your class continues to grow!
– Serene Musallam
As I was preparing for comp for the second time, I was introduced to the course by my friends. It is a 6-week online course which will cover everything you will need to know for your CK exam. I took my comp while I was on my 4th week of class and aced it. I took CK after two months and was really happy with my score. He is a great teacher. He will make sure that you are prepared for your exam. His class is really fun and will drill you as he is covering important concepts. He will teach you techniques to do u world questions. I was able to break down questions following his techniques which improved my u world scores tremendously and was able to come up with diagnosis correctly. I was confident with my answer choices as I was practicing u world. I am glad that I took the course with him k and I highly recommend this course to everyone. This is what you need for your comp, CK, and Step 3.
Farhana Akther
If you're looking for a flexible way to learn and study for your USMLE exams, the Survivors Course may be just what you need. With a vast array of on demand lectures available at your fingertips, you can learn at a pace that suits you and from the comfort of your own home. The subscription lengths are customizable, so whether you have one month or twelve, there's an option to that will suit your schedule. What's more, the lectures cover a broad range of topics, including basic sciences, medicine, surgery, obstetrics and gynecology, and pediatrics, giving you a comprehensive foundation of knowledge. And if you need some extra help with test-taking skills, the videos have got you covered. Best of all, the Survivors Guide Book can be used in conjunction with the video lectures, making it an all-in-one test prep resource. Ultimately, the Survivors Course doesn't promote rote memorization but cultivates a deep understanding of basic sciences, which will help you master the details essential to your practice.
Enrolling in the Survivors Course will give you the confidence, knowledge, and skills to handle any situation that arises in the world of medicine. Learn more here: https://survivorscourses.com/testimonials
The Post Survivors Course by Dr. Vijay Naik Receives Over 50 5 Star Reviews first appeared on ZEX PR Wire

Information contained on this page is provided by an independent third-party content provider. Binary News Network and this Site make no warranties or representations in connection therewith. If you are affiliated with this page and would like it removed please contact [email protected]