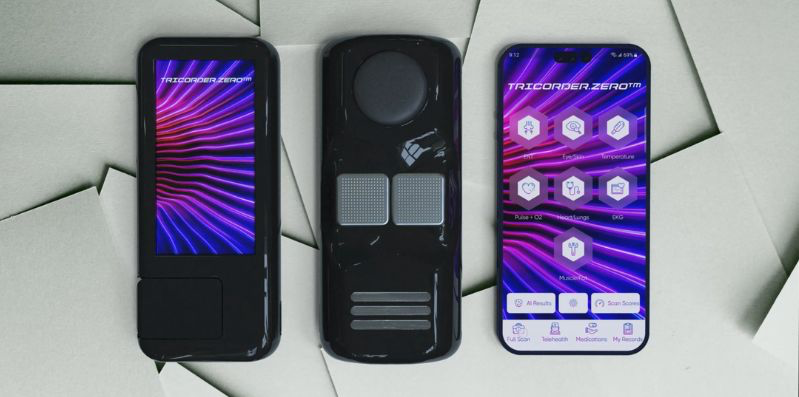 Tricorder.Zero

: 7-Sensor Health & Fitness Tracker
Sanibel, FL, 24th March 2023, ZEXPRWIRE, With patent pending status on 12+ concepts, seven accurate sensors, medication tracking, and the ability to send your data to a health provider and/or fitness trainer, Tricorder.Zero

is a portable, wireless, pocket-sized health & fitness tracker that allows more comprehensive holistic data tracking than ever before. Check it out now at: http://bit.ly/405yh3X.
Track Your Health More Accurately than Ever
Keeping proper track of your health is no easy task. You're burdened with a mountain of bulky and complicated devices, each with their own batteries, apps (if they even have them), and complicated user interfaces. Tricorder.Zero

is the world's first portable health & fitness tracker that combines seven accurate sensors into one easy-to-use package — so you can track your health with ease, anytime and anywhere!
Seven Sensors In One
Break the limits of typical fitness trackers! With Tricorder.Zero

, you get seven built-in sensors that allow you to actively monitor your health & fitness wherever you are — whether at home or on the go.
The ENT camera allows you to visualize the ear, nose, and throat. The high magnification camera makes possible the visualization of the outer eye, its microvasculature, and the skin. The thermometer allows the infrared reading of forehead temperature. Press the pulse oximeter button to record the heart rate and blood oxygenation percentage. The stethoscope may be used to hear heart sounds, lung sounds, abdominal sounds, and to measure the rate of breathing. The EKG sensor will assist in visualization of the pattern of electrical activity across the heart. The body fat and muscle tone sensor may be used to track muscle and fat percentage over a 30-day period. 
A New Dimension in Telehealth & Telefitness 
Save time, money, and energy on unnecessary in-person provider and trainer visits. Tricorder.Zero

takes telehealth & telefitness, when you need them, to a new level. It allows you the option to remotely send your real-time data to your health provider or fitness trainer, so they can evaluate you holistically and provide you with informed recommendations based on both your subjective statements and objective data. No more guessing and partial recommendations by your provider or trainer!
Always One Step Ahead
Don't wait for your health to take a turn. Tricorder.Zero

's AI-enabled "security system for the body" alerts you when single-sensor data indicates readings outside the norm, so you know when to seek a licensed expert's opinion.
Secure Health & Fitness Record Storage
If you wish, Tricorder.Zero

can bring all of your health information together into one end-to-end secure location, so you can choose to give providers and trainers access to an up-to-date record of your health & fitness journey.
Medication Tracking
Keeping track of your medications can be difficult, especially when you're taking more than one type. Tricorder.Zero

provides the assurance of consistent reminders. Its built-in medication tracking feature helps you stay on top of your medication, so you'll never miss a dose.
Measure and Manage with Tricorder.Zero

App
You can operate the device in standalone mode using its touchscreen, or via the companion phone app. Measurements are saved automatically and using the intuitive Tricorder.Zero

app, you can view all your measurements in one convenient place. You can also upload past records as you wish, knowing they will be secured end-to-end.
Reserve Your Tricorder.Zero

Today
Ready to reserve your Tricorder.Zero

today? Get it here: http://bit.ly/405yh3X.
The Post Tricorder.Zero

Set to Revolutionize Telehealth and Telefitness, Dominate USD $1 Trillion Worldwide Market by 2028 first appeared on ZEX PR Wire

Information contained on this page is provided by an independent third-party content provider. Binary News Network and this Site make no warranties or representations in connection therewith. If you are affiliated with this page and would like it removed please contact [email protected]