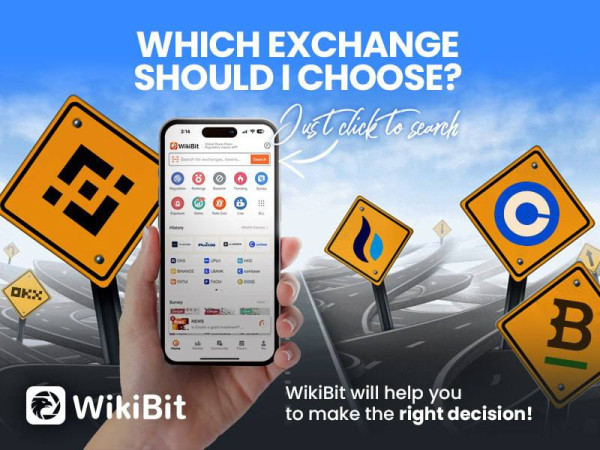 Victoria, Re Wan Chai, Hong Kong S.A.R., 28th Apr 2023 – When it comes to selecting a cryptocurrency exchange, users typically consider several key factors. Fortunately, WikiBit is a valuable tool that can help users choose the right centralized exchange by providing a range of features to enable informed investment decisions.
Security is paramount when selecting a cryptocurrency exchange in light of the increasing prevalence of cyberattacks and hacking incidents in the cryptocurrency market. Top exchanges prioritize security by implementing measures such as two-factor authentication, SSL encryption, and cold storage. WikiBit verifies the authenticity and compliance of various cryptocurrency exchanges, ensuring that users select legitimate and trustworthy ones.
Reputation is another critical factor for many people who seek exchanges with a good track record, positive reviews, and are well-established in the industry. WikiBit provides ratings and reviews of different exchanges, helping users make informed decisions based on factors such as security, liquidity, user experience, and customer support.
Fees are also a significant consideration for many users who typically seek exchanges with competitive fees for transactions, deposits, withdrawals, and trading. User-friendliness is also important, with people seeking exchanges with a simple interface and clear instructions. WikiBit can help users find exchanges with low fees and user-friendly interfaces.
The availability of coins and liquidity are also important considerations, with people seeking exchanges that support a wide range of cryptocurrencies and fiat currencies, with high liquidity to ensure they can buy and sell cryptocurrencies quickly and at a fair market price. WikiBit provides information on the availability of coins and the liquidity of different exchanges.
Lastly, people consider the quality of customer support offered by an exchange, as good customer support can make a significant difference in resolving issues or answering questions quickly and efficiently. WikiBit can help users assess the quality of customer support offered by different exchanges.
In addition to these features, WikiBit also provides information on the regulations that apply to different exchanges in different countries, helping users understand the legal and regulatory environment in which the exchange operates. WikiBit also provides up-to-date news and analysis on the cryptocurrency market, including trends, insights, and investment opportunities.
In conclusion, selecting the right cryptocurrency exchange is a crucial step in the cryptocurrency investment process. By taking into account factors such as security, reputation, fees, user-friendliness, availability of coins, liquidity, and customer support, users can make informed decisions. With the help of WikiBit, users can assess different exchanges based on these factors and make informed decisions about their investments.
About WikiBit
WikiBit is an inquiry platform for company profiles. It, established by the company in Shanghai, China, mainly provides basic information inquiry, regulatory license inquiry, credit evaluation for the listed BlockChain projects, platform identification, and other services. Based on public data released by the government, combined with advanced sniffing systems and scientific computer algorithms, WikiBit offers a prime big data solution that integrates data collection, screening, aggregation, modeling, and productization. It also provides both quantitative and qualitative evaluations of the supervision level and risk level of the listed projects from multiple dimensions for traders, institutions, and government departments.
 
 
Media Contact
Organization: WikiBit
Contact Person: WIKIBIT CO. LTD
Website: https://www.wikibit.com/en
Email: [email protected]
Address: 16/F ONE CAPITAL PLACE, RE WAN CHAI – HK
City: Victoria
State: Re Wan Chai
Country: Hong Kong S.A.R.
Release Id: 2804233297
The post WikiBit Introduces Additional Tools for Investors to Make Smart Decisions when Choosing a Crypto Exchange appeared first on King Newswire.
Information contained on this page is provided by an independent third-party content provider. Binary News Network and this site make no warranties or representations in connection therewith. If you are affiliated with this page and would like it removed please contact [email protected]
Information contained on this page is provided by an independent third-party content provider. Binary News Network and this Site make no warranties or representations in connection therewith. If you are affiliated with this page and would like it removed please contact [email protected]