Dubai, UAE, Nov 4, 2023, ZEX PR WIRE, ZZDAO, the decentralized Web3 investment platform, is nothing short of a revolution in the world of cryptocurrency. What is it that turns small investments into massive fortunes? Join us on a journey to explore the boundless opportunities offered by ZZDAO and discover why you should get involved right now!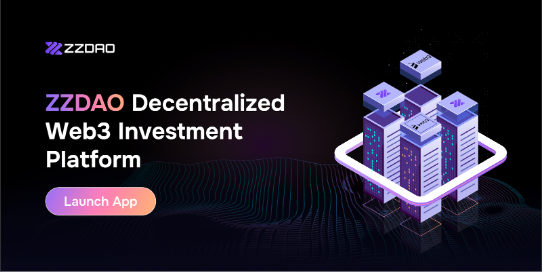 What is ZZDAO?

ZZDAO is a Web3 investment fund operated as a Decentralized Autonomous Organization (DAO). Members participate in founding, developing, managing, and profiting from the entire ZZDAO ecosystem. ZZDAO invests in early-stage blockchain projects with high growth potential and sustainability, such as Layer1 blockchains, Decentralized Exchanges (DEX), SocialFi Platforms, Metaverse, and more.
ZZDAO is a DAO-operated Web3 investment organization with a mission to support promising blockchain projects in their early stages. We focus on areas such as Blockchain Layer0, Multifunctional e-wallets, Decentralized e-commerce platforms, and Decentralized lottery platforms.
With your participation, you have the opportunity to invest in early-stage projects with a minimum investment of just $50. Beyond the potential for attractive returns, ZZDAO investors also enjoy special privileges that not every individual investor can access, including the ability to participate in the development, operation, and benefits of the entire ZZDAO ecosystem.
With a robust investor community and innovative operational mechanisms, ZZDAO is committed to creating significant value for all stakeholders, including investors, members, projects, customers, and society.
The name ZZDAO is composed of two elements, "ZZ" and "DAO." "ZZ" signifies the organization's primary goal of serving the ultimate benefits of end users, with end users and the community building and operating it. The two "Z" characters in "ZZ" also represent equality among individuals and a peer-to-peer operating model. "DAO" stands for Decentralized Autonomous Organization, emphasizing the organizational structure and decentralized operation.
ZZDAO's vision is to build a perfect decentralized financial model where people worldwide can access and utilize financial services without relying on traditional intermediaries. We are committed to ensuring transparency, fairness, and the participation of all members in the management and decision-making process within the DAO.
Create investment opportunities for everyone

: We aim to ensure that anyone can access and participate in the decentralized financial market.

Enhance transparency

: We establish an open and transparent financial model, allowing users to track and verify transactions and decisions within the DAO.

Reduce entry barriers

: We lower entry barriers to the financial market, especially for those in financially challenged areas.

Explore the potential of blockchain

: We believe in the power of blockchain technology and DAOs to create positive changes in the financial industry.
ZZDAO is not just a decentralized financial project but also a global community working to build a financial future that is accessible to everyone and beneficial to all.
Streamlined Project Selection
One of the biggest challenges for crypto investors is navigating the complex cryptocurrency market to identify promising projects. ZZDAO provides you with clear and diverse options, making it easy to pinpoint high-potential projects instead of getting lost in the shuffle of hundreds of unpredictable endeavors.
Early-Stage Access
You may have heard stories of those who got in on projects from their very inception and became millionaires. With ZZDAO, you have the chance to access similar projects, even from the ground floor, offering lucrative returns for supporting and investing in unique opportunities.
Secure the Best Deals
In the cryptocurrency world, negotiations with projects can be game-changers. ZZDAO wields the power to ensure you get the best possible terms with projects, maximizing profits and minimizing risks.
Smart Capital Management
Managing investment capital in the crypto space isn't for the ill-informed or unskilled. ZZDAO assists you in making intelligent investment decisions and capitalizing on the best opportunities.
ZZDAO operate on smart contracts, allowing rules and terms to be enforced automatically. Decisions and transactions in the DAO are made according to pre-set rules in the smart contract. This helps minimize dependence on humans and creates accuracy and reliability in decisions and transactions.
Transparency:

Every decision and transaction within ZZDAO is publicly recorded on the blockchain to ensure transparency and trust.

Delegation:

Customer have the ability to delegate their decision-making to representatives or participate directly in critical decision-making.

Community Consensus:

Important decisions are made by the community, ensuring fairness and active participation from everyone.
Unique Investor Benefits from ZZDAO
In addition to the traditional benefits of investors, ZZDAO offers unique perks:
Lifetime Airdrop Program: Receive free tokens/coins every 90 days, whether you're actively investing or not.

Ownership Rights: You have the right to oversee, manage, and benefit from all of ZZDAO's operations through the DCEO mechanism.

Transfer or Inheritance Rights: You have complete authority to transfer or inherit your investments with ZZDAO.
Diverse Profit Opportunities

Option 1: Fixed Interest Investment Program

Investors can participate in ZZDAO's investment program, which offers fixed interest rates. The platform currently provides daily payouts of 1%, with the potential for investors to earn up to 300%. For those seeking higher returns, the top-tier option offers a daily payout of 1.2% and the possibility of a 500% return.

Option 2: ZZDAO's Launchpad

ZZDAO's Launchpad is a gateway to a world of early-stage investment opportunities. The platform enforces a 90-day token value guarantee, which helps to minimize risk and optimize profits for investors. By participating in Launchpad projects, investors can access projects with immense growth potential.

Option 3: ZZD Token Investment

Investing in ZZDAO's governance token, ZZD, provides a unique opportunity to participate in the platform's ecosystem. The value of ZZD is backed by ZZDAO's investments and ecosystem transaction fees, offering a way to be part of the platform's growth and success
Airdrop Campaign for New Register and Daily
Furthermore, from November 1, 2023, to April 30, 2024, you'll receive 50 USDZ for free when you register an account with ZZDAO. Additionally, you can claim an extra 5 USDZ per day for up to 10 days by logging in daily after 0:00 (GMT).
Pre-DCEO & Pre-DAO
DAO (Decentralized Autonomous Organization) is a unique form of decentralized self-governing organization. What makes DAO special compared to traditional organizations like Facebook and Google is its ability to operate independently through the application of rules encoded through programming without the need for human intervention.
DAOs can be found in various fields, from blockchain and decentralized finance (DeFi) protocols using an "on-chain" governance model to groups that apply on-chain proposal and voting mechanisms in various areas. However, all DAOs share the common feature of easy access for members, allowing them to review and validate the organization's proposals and activities and participate in DAO decisions.
In the case of ZZDAO, the DAO model is applied throughout all activities, including representative elections, decision-making, investment decisions, policy voting, and profit distribution.
Pre-DAO is the initial governance system of ZZDAO, built according to DAO operational mechanisms but not yet fully operational on the blockchain.

Launching Pre-DAO before the official deployment of the DAO Mainnet is essential for several reasons:

Testing flexible features: This helps minimize unsuitable features, feature gaps, or complexities when customizing functions once deployed on the blockchain.

Ensuring initial direction: Although it is a decentralized platform, the Pre-DAO stage allows for guidance and direction until it reaches the point of full decentralization. This stage ensures smooth decision-making, allowing the system to establish a solid foundation.
DCEO stands for Decentralized Chief Executive Officer, which means the representative operator of the entire ZZDAO organization in a decentralized manner.
ZZDAO will have a minimum of 5 DCEOs, with no maximum limit.
The selection mechanism for DCEOs will depend on the development stage of ZZDAO:
Pre-DAO stage:

The top 21 Diamond members with the highest earned Star Points by developing members from Silver and above.

DAO Mainnet stage:

This mechanism will be developed and adjusted based on the DCEO's voting mechanism to align with the overall development of the entire ecosystem at the end of the Pre-DAO stage.
Get ready to join the cryptocurrency revolution with ZZDAO. Boundless opportunities await you, so don't let them slip through your fingers!
The Post ZZDAO – Decentralized Web3 Investment Platform for everyone first appeared on ZEX PR Wire

Information contained on this page is provided by an independent third-party content provider. Binary News Network and this Site make no warranties or representations in connection therewith. If you are affiliated with this page and would like it removed please contact [email protected]