Apple Pay and Google Pay are very popular with smartphone users. Now you can even secure a whole 100 euros with the right credit card. The card is also free of charge. Curious? GIGA knows about it and reveals how you will receive the money gift until June 8th.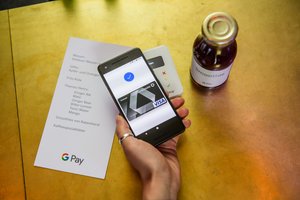 To Apple and Google users: Get a 100 Euro bonus to the free Mastercard now
Apple's iPhone and Google's Android users can now easily dust off 100 euros. How to do this? Very simple: Only apply for the free Mastercard from Consors Finanz until June 8, 2022, use it and secure 50 euros twice each (See Consors Mastercard). In the end, you get a whole 100 euros for free.
Apply for a Consors Mastercard and secure 100 euros
Important, the promotion conditions should be met, the provider describes them as follows:
"The bonus will be given to new customers who are from 02 May 2022 have ordered the Consors Finanz Mastercard® online by June 08, 2022 and used it by August 31, 2022 inclusive (for example, for purchases or cash withdrawals). New customers receive 50 euros for a minimum turnover of 250 euros, as well as another 50 euros for at least three transactions. The bonus will be paid out to the deposited reference account in mid-September 2022, provided that the Consors Finanz Mastercard® has neither been cancelled nor cancelled at the time of payment. New customers are persons who currently have no ongoing business relationship with the Consors Finanz – BNP Paribas S.A. branch in Germany and have not already participated in a Consors Finanz Mastercard® bonus promotion in the last 12 months."
By the way: it's really just a free credit card. You do not need to open another account with Consors. So you are not forced to change the bank. This makes the card particularly worthwhile for customers of other banks who currently have to live without Apple Pay support, for example.
Tip: If you do not want interest to accrue for repayments, you should definitely switch to a one-time repayment (90 days interest-free). This can be easily checked and done in the corresponding app for iPhone and Android (menu items My card -> Purchases-> One-time refund).
Contactless payments with iPhone, Android phone and Mastercard
Speaking of iPhone and Android: as already mentioned, Consors Finanz is one of the service providers that support Apple Pay and Google Pay. Customers can therefore simply store their card in the appropriate wallet app on their smartphone and from now on pay contactlessly with their mobile phone – safely and easily. However, those who do without it can also pay directly contactless at suitable terminals with the card.