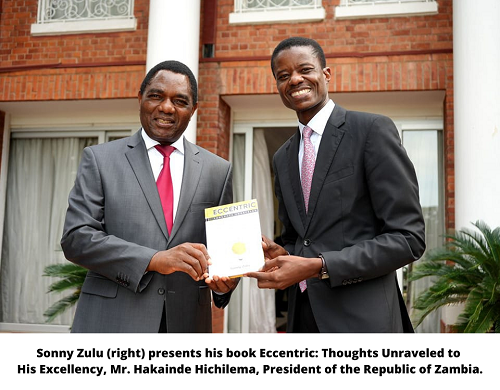 Lusaka Province, Zambia, 23rd February 2023, ZEXPRWIRE, We live in a world that blatantly favors conformity and conventionalism against originality and uniqueness unless the latter is backed by hard evidence. People find comfort in what is known and explored and grow wary of new ideas. In a way, their fears are valid, as we have had our fair share of fanaticism and pagan practices throughout our years on earth. Still, we wouldn't have been anywhere near our present if we had written off all original ideas as musings of eccentrics and madmen.
Sonny Zulu explores the stakes in his debut book, "Eccentric: Thoughts Unraveled," using his years of experience in banking and entrepreneurship. He reveals how original ideas and fresh perspectives are essential for cultural and intellectual growth.
Here are 3 tips for preserving your originality, as mentioned by Sonny Zulu in his book:
Accept Your Thoughts:Most people make the mistake of taking criticism of their genius to heart. They put too much importance on the words of those who are inherently conformist and without any means. However revolutionary and exceptional, their ideas fail to find footing in a society that normalizes conformity in all aspects of life.
To combat this, one must accept their quirks and ideas just as they are. How can you expect the world to accept your originality when you are constantly trying to fit into their mold?
Take Risks:Your unique thoughts demand you to be fearless and daring, even if the world has labeled you eccentric. Their ridicule and criticism might discourage you and make you miserable, but nothing good came out of silencing your voice against the din of ordinary and traditional. Take risks, and don't let the world turn you into another bumbling conventional fellow!
Ignore the Naysayers:History bears witness that all exceptional ideas have met with suspicion in the beginning and even after their deployment. Cynics and critics take it upon themselves to investigate anything unique to test its merit against what is already known and practiced. Sometimes, their investigation is predetermined, which can be discouraging if your idea needs work. If that's the case, never let their critique stop you from experimenting.
You can learn more about the importance of original thought and its implementation process from "Eccentric: Thoughts Unraveled." Sonny Zulu has maintained a simple yet engaging writing style to explain the risks of conventionalism to a diverse audience.
You can get your copy here: https://www.amazon.com/ECCENTRIC-THOUGHTS-UNRAVELED-SONNY-ZULU/dp/B0BQ9CP6K5/
The Post 3 Tips to Preserve Your Originality first appeared on ZEX PR Wire

Information contained on this page is provided by an independent third-party content provider. Binary News Network and this Site make no warranties or representations in connection therewith. If you are affiliated with this page and would like it removed please contact [email protected]