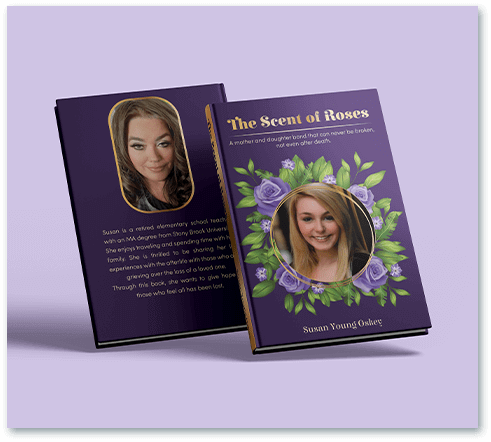 Medford, NY, 13th April 2023, ZEX PR WIRE, Death is an inevitable part of human life—a truth that science and technology cannot grapple with decades into research and advancement. We all have run into the sad instance of death head-on or, in hindsight, but are never the wiser in the extended scheme of grief and loss. Plenty of research proves death is a momentous event that adds to the psychiatric issues of grieving individuals. If left to its devices and the mythical notion of "time heals everything," grief can manifest anxiety, depression, irregular sleep cycle, and suicidal thoughts.
Susan Young Oskey has a lot to say about grief, loss, and the afterlife in her book, "The Scent of Roses." She lost her daughter, Brittany, unexpectedly and has tried desperately to reconnect with her in ways humanity deemed impossible.
Here are the four takeaways readers can get from her miraculous journey of self-healing:
Embrace your emotions:Losing a loved one can trigger emotions many have not felt before. The intense feelings of despair and perpetual sadness can only be harnessed when your brain is aware of the irreversible nature of your loss. You can only break out of that damaging headspace by embracing your emotions and accepting your pain.
Don't run away from the memories: There is no denying that memories are painful reminders of what you have lost. Still, boxing up those memories and pushing them in the basement or donating them to goodwill doesn't help you move on. You must allow yourself to grieve appropriately by fondly remembering the good times spent with the deceased individual through memorials, memory journals, and photographs.  
Let go of the guilt:If you are holding onto your grief because the opposite means you don't care, then know that moving on and forgetting are not synonyms. You can be grieving and missing your loved one and still continue to live your life.
Connect with the community:Your grief might push you towards isolation, telling you that you are better off alone, but know that leaning on your friends and family can help you survive the darkest times.
You can learn more about the process of bereavement and the journey of self-healing by reading "The Scent of Roses" by Susan Oskey. The book was released on Amazon and her website in physical and digital formats on 7th October 2022.
If you are curious about the author's view on the afterlife, connect with her on her website: https://www.thescentofroses.com/
The Post 4 Ways to Cope With the Loss of a Loved One first appeared on ZEX PR Wire

Information contained on this page is provided by an independent third-party content provider. Binary News Network and this Site make no warranties or representations in connection therewith. If you are affiliated with this page and would like it removed please contact [email protected]