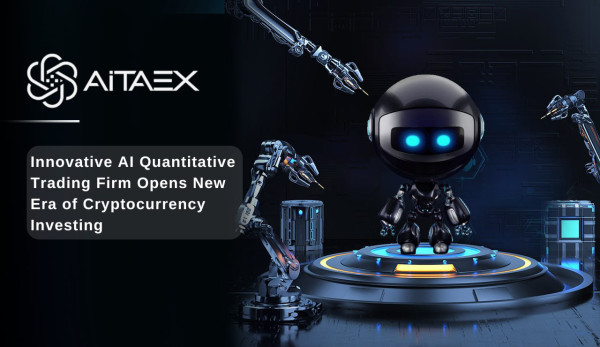 Bethnal Green, Birmingham, United Kingdom – AIXtreme Ltd. ("AIXtreme"), an innovative technology company dedicated to the research and application of AI technology, was officially launched in July 2023 in the UK. Together with the investment support of Hong Kong Aurora International Development Limited, AIXtreme focuses on promoting the application of AI in the field of quantitative trading, and providing leading AI quantitative trading services to individual investors around the world.
In heavy news, the company announced that its first project AiTAEX quantitative exchange, which has been prepared for 2 years, will be officially launched and operated by the beginning of September, which will open up a new era of cryptocurrency investment!
AIXtreme has launched in 2021 with its unique project AiTAEX (AI Exchange) as the core. Relying on Hong Kong's policy to support the blockchain industry, AIXtreme is confident that it will stand out from its competitors and lead the blockchain sector.
As a company specialising in AI technology, AIXtreme aims to develop AI quantitative trading robots that can automate quantitative trading instead of users. After intensive research and training since 2021, AIXtreme's AI quantitative trading robot has become an efficient and accurate trading tool in the market.
"Our team consists of experts with extensive experience in AI research and finance, who have a deep understanding of the rules that govern the functioning of the cryptocurrency market, as well as advanced AI technologies. With these technologies, we have successfully developed an efficient and accurate AI quantitative trading robot to provide users with a convenient and secure investment experience." George Ethan Frank, Founder and Incorporator of AIXtreme, said.
AIXtreme focuses on the development and optimisation of AI algorithms to ensure that the robot is able to accurately analyse market dynamics and make quick trading decisions. In addition, AIXtreme has acquired 5,000 GPUs and is using advanced technology to provide world-leading arithmetic support to ensure that the robots are able to quickly process large amounts of data and make real-time trading decisions. Moreover, AIXtreme will simultaneously increase the project's AI arithmetic power based on GPU enhancements as well as the growth of the project's user base to ensure that the project will be at the top of the world for a long time.
"Our vision is to use our unique AI technology to provide individual investors around the world with a new way to invest, reduce investment risks and enjoy the investment opportunities brought by cryptocurrencies. We aspire to be the world's leading AI quantitative trading service provider, and provide more efficient and convenient services for global cryptocurrency investors by promoting the application of AI technology in the field of cryptocurrency investment." George Ethan Frank added.
About AIXtreme Ltd:
AIXtreme Ltd. is an innovative technology company based in Birmingham, UK, specialising in the research and application of AI technology. The company's core project, AiTAEX (AI Exchange), has been launched in 2021 and is backed by an investment from Hong Kong's Aurora International Development Limited.AIXtreme's goal is to provide leading-edge AI quantitative trading services to individual investors around the globe, and to help its clients achieve superior trading results by advancing the use of AI technology in cryptocurrency investing.
Media Contact
Organization: AIXtreme Ltd.
Contact Person: George Ethan Frank
Website: https://AIXtreme.ai
Email: [email protected]
Address: The Green House, 244-254 Cambridge Heath Road, Bethnal Green, Birmingham, UK
City: Bethnal Green
State: Birmingham
Country: United Kingdom
Release Id: 0808235393
The post AIXtreme Ltd: Innovative AI Quantitative Trading Firm Opens New Era of Cryptocurrency Investing appeared first on King Newswire. It is provided by a third-party content provider. King Newswire makes no warranties or representations in connection with it.
Information contained on this page is provided by an independent third-party content provider. Binary News Network and this site make no warranties or representations in connection therewith. If you are affiliated with this page and would like it removed please contact [email protected]
Information contained on this page is provided by an independent third-party content provider. Binary News Network and this Site make no warranties or representations in connection therewith. If you are affiliated with this page and would like it removed please contact [email protected]