Ohio, US, 15th November 2023, ZEX PR WIRE, Jay Dehmalo, renowned in the boxing world as both a coach and a former professional boxer, is celebrating a remarkable thirty-year career in the sport that has left an indelible mark on the lives of countless athletes and the communities he serves. Known by many as Jay D'mallo and Jay Dimalo, Dehmalo's journey in the world of boxing is a testament to dedication, mentorship, and personal growth. With roots in Erie, Pennsylvania, where he was guided by his manager, Jake Luce, Dehmalo's career is a reflection of the profound impact of his mentors and his unwavering commitment to the sport.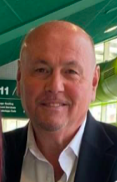 During the 1980s, Jay Dehmalo called Johnny Tocco's gym in Las Vegas his home, following in the footsteps of legendary coach Johnny Tocco. Tocco's association with the historic bout between Sonny Liston, who reigned as the heavyweight champion of the world, and Cassius Clay, the charismatic young fighter who would later become the iconic Muhammad Ali, solidified Dehmalo's legacy as a coach who not only comprehended the intricacies of the sport but also revered its profound history and the monumental figures who had left an indelible mark on the boxing world.
However, Jay Dehmalo's influence extends far beyond his role as a fighter and a coach. He contributed significantly to the success of heavyweight champions Trevor Berbick, who made history by becoming the first fighter to defeat the legendary Muhammad Ali in a match outside the United States in his final bout, and Bonecrusher Smith, known for his powerful punching and relentless style in the ring. Serving as their sparring partner, Dehmalo not only shared the ring with these titans but also played an integral role in enhancing their skills and sharpening their techniques. This valuable experience allowed Dehmalo to not only understand the sport from a fighter's perspective but also to hone his coaching abilities, ultimately setting him on the path to becoming an accomplished trainer and mentor to amateur and professional boxers alike. His contributions to the careers of these prominent heavyweights continue to be celebrated in the annals of boxing history.
Beyond the ropes, Jay Dehmalo's commitment to justice was evident in his involvement as a case officer in a high-profile legal matter. He played a pivotal role in the conviction and deportation of John Demanyuk, also known as "Ivan the Terrible," a convicted Holocaust criminal. His dedication to upholding principles and values extended beyond boxing, reflecting his unwavering commitment to justice and fairness.
Dehmalo's dedication to charitable endeavors is an essential part of his life. As a monthly donor to St. Jude's in Cleveland, Ohio, he consistently demonstrates his commitment to giving back to the community that has supported him throughout his career. Furthermore, his affiliation with organizations such as EX-Boxers.com, the Fraternal Order of Police (FOP) Lodge 2260 in Westlake, Ohio, and TWS underscores his commitment to various communities and causes, highlighting his spirit of community service.
With a professional boxing record of 5 wins and 3 losses between 1985 and 1986, Jay Dehmalo's legacy in the boxing world stands as a testament to his enduring dedication to the sport. His military service as a US Army veteran from 1978 to 1982, with service in B Company, 1/10 Infantry at Ft. Carson, Colorado, further exemplifies his commitment to service and discipline, both in and out of the ring.
One of the crowning achievements in Jay Dehmalo's remarkable career came in 2022 when he received the prestigious invitation to the International Boxing Hall of Fame in Canastota, New York. The International Boxing Hall of Fame is a hallowed institution that pays tribute to the sport's most illustrious figures, both past and present, who have made indelible contributions to the world of boxing. This esteemed recognition is the pinnacle of acknowledgment in the boxing community, reserved for those whose lifelong dedication and remarkable impact on the sport have left an enduring legacy. 
As Jay Dehmalo celebrates thirty years in the boxing world, his story is one of dedication, service, and unwavering commitment to the sport he loves and the communities he supports. His influence extends far beyond the ropes, making him a revered figure in the world of boxing and a true embodiment of the values and principles the sport represents.
The Post Jay Dehmalo Recalls Highlights of a Thirty Year Career in Boxing first appeared on ZEX PR Wire

Information contained on this page is provided by an independent third-party content provider. Binary News Network and this Site make no warranties or representations in connection therewith. If you are affiliated with this page and would like it removed please contact [email protected]