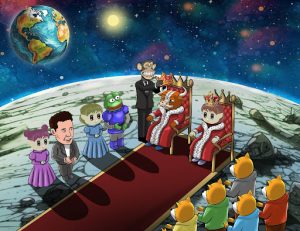 London, UK, 28th June 2023, ZEX PR WIRE, A new memecoin is coming to the market, backed by an entire community effort. Mumu, a project that follows in the footsteps of PEPE, has unveiled several features for its token holders.
From tokenomics to staking pools, a host of utilities aims to provide value and lasting rewards for its community. The team offers multiple ways to buy $MUMU and join the movement with an appealing token-burning feature.
A Community Effort Following PEPE's Steps
Bull Mumu is a beloved mascot of the crypto community. Its return this Spring has sparked renewed interest in memecoins. Mumu battles Bobo the Bear for control of market sentiment. In this context, Mumu's goal is to bring green candles back into play while taking away Bobo's red ones.
The contrast between market bulls and bears is nothing new, and crypto has brought the meme dimension into this field. Recently, many crypto enthusiasts have embraced Mumu's return with open arms. The crypto community wishes for this project to follow PepeCoin (PEPE)'s price surge in May.
PEPE and MUMU have a clear connection, both coming from the 4chan universe. Mumu's desire to retake the market and Pepe's success may bring interesting changes to the crypto world.
Mumu intends to bring more prosperity and happiness by putting the crypto community at its core.
All the Features Designed by the Team
Several utilities are coming with the launch of this project. Mumu offers staking pools and will soon launch an NFT utility. The feature will allow holders to mint their own Mumu NFTs to show off and earn extra $MUMU tokens. Moreover, $MUMU holders will have the right to receive a part of these newly-minted NFTs.
There are also more features coming to this ecosystem in the long term. First of all, MumuSwap will allow users to exchange their favorite Ethereum-based tokens with low fees and a trustable swap. 
The project's token launchpad ("MumuPad") will enable presale partners to increase the success rate of their funding.
Moreover, the MumuBanks system will serve as the ecosystem's core operator with faucets for token staking or NFT farming pools.
Finally, to increase the token holder's values, $MUMU has an Auto-Burn Mechanism. The strategy integrates an automated burning system of 0.25% of LP for each sale at a one-hour time interval. As of today, the mechanism has already reached a 20% of the total supply burnt.
All these features aim to provide users with a safe, secure, and easy-to-use platform. The quadrillion $MUMU tokens will follow a simple allocation:
95% of the total supply will go to the initial liquidity

5% will go to the token staking pools and CEX Listings expenses.
Last but not least, the team renounced the contract ownership of the project, creating a trustable environment with no taxes.
A Project Relying on Its Community to Grow
Mumu's success story has been made possible thanks to the generous donations and support from its community. Through the collective efforts of many generous people, this project has been able to raise a great deal of money for its development.
The money raised through donations has enabled Mumu to continue growing and developing in ways that wouldn't have been possible without the community's help. From hiring more developers to creating new features and services, this project is able to progress thanks to the donations of its generous supporters.
At the heart of Mumu's success lies a strong sense of community and collaboration that has been built over time. People from all walks of life have come together to help realize the vision for this project, and anyone interested can get in touch to learn more about how they can get involved.
About Mumu
Mumu is a decentralized cryptocurrency powered by a strong community of bulls, represented by MUMU, the bull market's mascot. Mumu has dominated and controlled market sentiments in the past and returned in the Spring of 2023.
Investors can acquire Mumu tokens through 3 different methods:
Purchase through Flooz Trade using Credit Card/Apple Pay/Google Pay.

Use a DEX such as UniSwap.

Use a DEX aggregator such as One Inch.
Mumu offers investors 0% taxes, creating an environment of true Defi community freedom. It is essential to highlight that the original $MUMU token is live on Ethereum under the address 0x2F573070E6090b3264Fe707e2C9F201716F123c7.
Anyone wishing to learn more about Mumu, its vision, and its goals can refer to all the links below.
Website | Twitter (Project) | Twitter (Community) | Telegram
The Post Mumu Unveils New Features for Its Community-Centered Memecoin first appeared on ZEX PR Wire

Information contained on this page is provided by an independent third-party content provider. Binary News Network and this Site make no warranties or representations in connection therewith. If you are affiliated with this page and would like it removed please contact [email protected]