Goa, India, 11th August 2023, ZEX PR WIRE, NORDEK, which is on a mission to create an advanced ecosystem that combines the speed and security of blockchain with the limitless potential of web3 is excited to be the Payments and Gaming Blockchain Partner of India's inaugural Chain-Agnostic conference, Web3Conf, organized by the GirlScript Foundation. 
Set to unfold from August 11 to 14, 2023, this four-day event will grace the shores of Goa, India, hosted at the picturesque Novotel Goa Dona Silvia Resort.
Anticipation runs high as Web3Conf anticipates the gathering of over 3000 fervent web3 enthusiasts in Goa, India this year. This exceptional occasion is tailored to provide a platform for learners to bolster their comprehension of the thriving web3 ecosystem. Anchored by a startup pitch session, illuminating talks, and insightful panel discussions led by web3 luminaries, participants will explore the significance and forthcoming advancements within web3.
Last year, the Web3Conf event shared its stage with over 1500 zealous web3 proponents in the heart of Goa. This year, the event boasts an accompanying Hackathon named "Hack-Web3Conf," adding an extra layer of excitement to the experience. Noteworthy is the Web3Conf team's track record of orchestrating impactful events, specifically aimed at advancing the web3 Industry. Across diverse cities, the foundation conducted beginner-friendly web3 boot camps in 52 locations throughout India, shaping the understanding of over 15,000 eager learners.
NORDEK which has just wrapped up its event at the WBS Singapore is excited to be a part of Web3Conf Goa 2023, and to take its blockchain ecosystem to the next billion.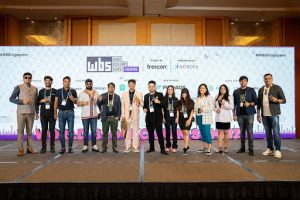 NORDEK is a layer 2 blockchain that combines the advantages of a Delegated Proof of Stake (DPOS) network with the strength of an Ethereum Virtual Machine-compliant Network blockchain. 
The NORDEK blockchain is capable of processing faster and more cost-effective transactions than ever before, raising the bar for blockchain efficiency. At the time of writing, the total transactions for the blockchain stand at 488,097 with 170,003 registered wallet addresses and 88+ active validators. NORDEK also has a native token of its own called $NRK. There has been a total of 17,805,033 $NRK staked so far and has a market cap of $190,243,200 USD. 
NORDEK is on a mission with a clear goal: to make web3 payments a part of everyday life. They're making this happen through their technological expertise and a diverse range of product lines. Keeping the spirit of innovation alive, NORDEK is gearing up to reveal an exciting new blockchain product at Web3Conf Goa. 
One of NORDEK's major upcoming releases is their crypto debit card, which is designed to simplify the use of cryptocurrencies in daily transactions. Known as NORPAY cards, these cards will be compatible with VISA and MasterCard systems, and they'll be available in both virtual and physical formats. What's really impressive is their global reach – these cards will be accepted in over 170 countries, at more than 60 million merchants. Plus, they'll offer support for over 40 different crypto assets. Users of the Norpay system can take advantage of various payment methods like POS terminals and ATMs to effortlessly complete transactions.
Expanding their offerings even further, NORDEK is introducing Norflix, a crypto voucher service that lets users utilize the $NRK token for booking flights, topping up airtime, bundling services, and even creating reward programs. By bridging the gap between web3 and web2 payments and causing a stir in the cryptocurrency market, these services are making cryptocurrencies more accessible to people everywhere.
"As the founder of NORDEK, I'm thrilled and exhilarated for the upcoming Web3Conf in Goa. This event promises to be a remarkable platform for us to showcase our passion for driving widespread adoption of web3 payments. The spirit of innovation that resonates throughout the conference aligns perfectly with NORDEK's mission, and we can't wait to unveil our latest set of blockchain products that will further propel the financial ease into the mainstream", said Mr. Raajessh Kashyap, Co-founder and CEO NORDEK.
About NORDEK
NORDEK is a leading blockchain ecosystem dedicated to facilitating the mainstream adoption of web3 payments. 
Official Website: https://nordek.io/
Follow NORDEK on Twitter, Facebook, Linkedin, and Medium for the latest updates from the NORDEK ecosystem.

The Post NORDEK Takes Center Stage as Web3Conf Goa 2023's Premier Blockchain Partner for Payments and Gaming first appeared on ZEX PR Wire

Information contained on this page is provided by an independent third-party content provider. Binary News Network and this Site make no warranties or representations in connection therewith. If you are affiliated with this page and would like it removed please contact [email protected]