Hong Kong, China, 11th August 2023, ZEX PR WIRE, On August 8, Opside was invited to participate in the OKX AMA. The AMA lasted for an hour, more than 10,000 people participated, and the audience asked more than 800 questions. Now we can't wait to share these amazing moments with you all.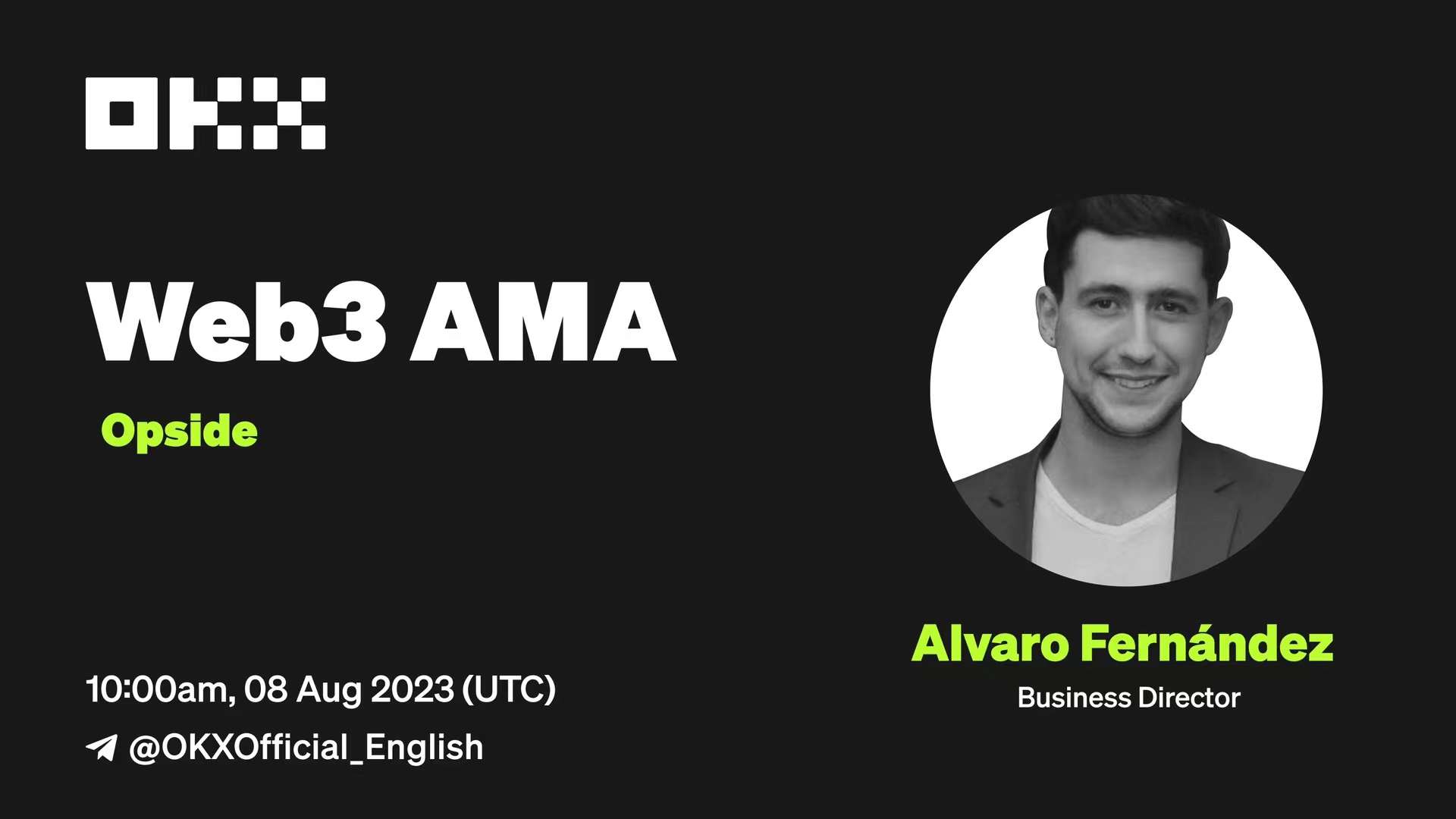 This AMA has 3 sessions, Q&A Session, Free Ask & Quiz.
Here comes the Q&A Recap:
Q1: Welcome to the OKX community! Please introduce yourself and Opside.
A1: Hey everyone, I'm Alvaro, Business Director at Opside. I'm glad to be here and share some of my insights on ZK Technology and what we're building at Opside. Opside is a decentralized ZK-RaaS Network featuring ZKP-POW Mining.
ZK-RaaS here refers to (ZK-Rollup as a Service), we offer both general and customized ZKRollup stacks to developers for easy deployment.
ZKP-POW refers to Zero Knowledge Proof of Work mining. This is the approach we have taken to achieve the decentralization of the prover, one of the latest industry-wide advancements. Since ZKP generation is a cryptographic process that requires large amounts of computing power, at Opside, we have pioneered by establishing a marketplace for participants to provide their computing power for ZKP generation, incentivized at the protocol level. This is part of the backbone that powers Opside's feasibility to allow developers to deploy custom scaling environments, on top of their desired base chain, without the need to concern about computing power to secure their Rollup.
Both features are chain-agnostic and represent the backbone of the open stack we are working on at Opside.
You can look at the Opside Open Stack as the missing enclave when referring to logical steps being taken toward on-chain scaling infrastructure maturity. Customizable app-chains powered by zkRollups, built on any base chain. Secured with PoW ZKP Mining.
Some key Testnet metrics that represent our current stages of development are:

Q2: What role do you think Opside plays in the development of ZK architecture for scaling blockchains?
A2: Since I joined the industry in 2017, scaling narratives have changed quite a bit. Back in 2017-18, it was the time for what we used to call "Ethereum killers", blockchains that aimed to improve what could be offered as a programmable, immutable ledger. However, consensus lay around underestimation to attract one of the core values Ethereum had: its developer community and built an application ecosystem.
2018-2020 alternative blockchains being built understood this and had to offer a different advantage or focus rather than just an improved version of Ethereum. And so, networks like Solana, Cosmos, Polkadot, BNBChain, etc. were established. Each with its unique alternative advantages. Meanwhile, Ethereum was getting more and more congested, having transitioned from an Etherum-killer narrative to a scaling narrative in the form of side chains. Some of these included Plasma bridges, sharding, etc. However, we were still not quite there in terms of a feasible scaling product for the mass community; some vulnerabilities like security were being sacrificed. Also, yet again, the same bottleneck seen before was underestimated: developer communities and underlying applications were not easy to fork from existing networks like Ethereum.
2021-2022 was the nascent time of exploring solutions towards scaling issues via layer2 architectures and Rollup environments. Protocols like Arbitrum & Optimism (Optimistic Rollups), StarkNet, zkSync (zkRollups) were developing rather interesting solutions that would leverage underlying base-layer security while being able to offload some of the congestion seen at the time on Ethereum. This is the first time when a feasible approach towards true scaling was starting to look realistic and achievable.
Today, in 2023 we see a suite of different L2 and Rollup architectures, each leveraging different advantages that have been deployed thus far, and more being launched as we speak. However, these are mostly separate hubs that have a rather competing nature towards each other and essentially act as independent ecosystems. They are what we call chain-centric scaling solutions, where applications need to find the best possible solution to meet their demands for scaling. Such demands tend to differ from application to application, and from what we are starting to witness, many scaling solutions are not able to meet the needed criteria for said applications to optimize.
These chain-centric scaling hubs see the same challenges that alternative blockchains faced between 2018 and 2020 in regard to developer communities and onboarding ecosystem applications.
At Opside, we have decided to offer an open stack that is chain-agnostic instead, and rather developer/application-centric. For the first time, applications can benefit from tailor-made scaling environments that – do not require intensive computing power requirements to be bored by applications, – Are not isolated from interacting with other applications in different Rollup chains (composability) – Have a set of customizable features that include: Custom Gas economies Gas-exempt contracts for their users Applications can launch on roll-up environments, either public or customized, rolled up on the chain they are interested in, with the custom features that would best leverage their product to their users. To circle back to the initial question about how Opside is playing a role in scaling and ZK Technology, Opside offers developers to launch custom ZK-Rollups without previously disqualifying requirements, which we estimate to be the next step in maturing ZK scaling solutions. Opside is the one-stop-shop to provide expertise, tooling, and supporting infrastructure & services required for zero-knowledge proof custom scaling and their implementation.
Q3: Could you share some of the advantages of Opside compared to current scaling solutions?
A3: So in essence, Opside is a powerhouse for applications to scale on demand. Opside is the only architecture that allows custom scaling environments based on zkRollup architecture, without the need to provide computing power. No other architecture offers this: either you have non-sovereign environments (Gen1 Rollups), or a requirement to supply your own computing power for zkP generation (Modular Rollups without hardware support). Computing provision provided via POW, incentivised at protocol level, is one of Opside's core features and innovations that allow this model to be feasible. Besides the above-mentioned unique approach, we have integrated additional perks this industry has been demanding for some time: – An agnostic, open stack: Connection to any base-layer blockchains on-demand, as well as integrating several zkRollup solutions through Opside's Rollup Launchpad – Zero-Gas fee environments for applications to launch their own custom Rollup Chain, within specific smart contracts allowed by the application/developer. -Custom Gas-Economies: Applications can now choose to live natively in their own AppChain, rolled up on top of the base chain they intend to connect, enjoying gas settlements to be executed in their native application token. In order for applications to start exploring these benefits, we have launched Opside's Grants Program, with the intention to incentivize developers and applications during testing and foment an early Ecosystem onboarding.
Q4: Opside adopts a PoS + PoW hybrid consensus. Can you please elaborate on this method and why you decided to implement it?
A4: Ethereum 2.0's PoS is at the core of the Opside Chain to exercise as an optimal base-chain for Data-Availability to all the rollups living on the Opside ZK-POW cloud while having low entry barriers to Validators from other networks like Ethereum. In terms of PoW, when utilizing ZKRollup as a Layer 2 solution, computing power is required to generate ZK proofs (ZKPs) for transaction batches (sequences). PoW consensus serves as an excellent incentive for miners to join the ecosystem and provide the necessary computing power in exchange for rewards. As the number of ZKRollups increases, this scenario is to become more common. We are aware that some hardware suppliers are currently developing general ASIC chips for ZK. This gives us a glimpse into the future of ZK technology and its potential widespread adoption.
Q5: How about validators? Seems like a lot of participants joined your whitelists during Pre-Alpha testnet.
A5: Right! Over 15,700 validator nodes (as of August 10th) are live and running within just 9 weeks since we launched on Testnet, and it's been thrilling to witness such levels of adoption and decentralization at the nascent stages we're at. Our internal metrics to achieve are estimated at around 30,000 validator nodes for Testnet, and about 100K for a successfully established & matured Mainnet.
Q6: If you had to compare yourself to any other projects or architecture, which would it be?
A6: – Application Specific chains: E.g. Cosmos/Polkadot. Rather expensive option for applications to have their native environments with limited customizability. Said chains have only indirect connectivity outside the respective ecosystems and do not leverage security from EVM-centric environments such as Ethereum, Polygon, BSC, etc. -Gen1 zkRollups: Chain-centric approach, generally deployed among one single base layer, that either offers hardware support (e.g. zkSync) or customisable layers (e.g. Celestia). Besides Opside, no other solution offers a combination of both: Customisable scaling tailored for applications, merged with full hardware support. – Customisable optimistic rollups: Altlayer, Eclipse, Caldera. Only able to provide Optimistic rollups sacrificing in security, decentralization and higher delay on bridges compared to zkRollups (about 7 days avg. for Fraud-proof finality on Optimistic rollup environments). Also, in most cases, you see the absence of a sovereign Data-Availability layer. Rather, these leverage third party DA-layers for this purpose, e.g. Celestia DA.
Q7: What's the idea behind your currently ongoing Testnet Campaign? What can users expect?
A7: Without this Campaign, Opside would arguably not have the remarkable Testnet conditions you can see today. The three key criteria for us to tackle were: – Early user incentivization – Stresstest tech-stack innovations & current features deployed – Onboarding early ecosystem applications to explore first-hand some of the advantages they will be able to benefit from
In all terms, the Testnet and linked Campaign on Galxe is being a success, and is allowing us to see a vast inflow of users/testers, validators, miners & applications deploying. Said users can expect to be treated as early contributors, playing a key role in the toddling steps of development Opside is passing through as we speak. Loyalty Points are our metric to measure each participant's engagement, and we are looking at ways to convert these into early participant rewards, once Mainnet is reached.
Q8: Does Opside require a token? If so, what would be the main utility of it?
A8: In discrepancy to many exclusive L2 Rollup environments out there, Opside does also rely on its own base-layer blockchain to cater to those applications looking for an agnostic, high-performing data availability layer to deploy on. Given this scenario, the Opside Stack does require its own native currency to properly operate once launched. Besides securing the network, here are some of the main needs different user profiles will encounter:
Pledging for rollup slots is one of the core functionalities of IDE from an application/developer perspective. In order to launch a custom zkRollup chain, applications undergo a rental process, under which they are required to pledge a fee denominated in IDE. However, there are several other core utilities not to be ignored:
Validator perspective (PoS): Required stake needed to validate the network & attain rewards; to be subject of slashing in case of erroneous validation or downtime.
Prover Perspective (PoW): Required stake needed to become a prover providing computing power for generation of zkProofs. To be subject to slashing in case of erroneous participation or downtime.
Governance interaction: Similar to Ethereum, Arbitrum, and other Foundations present in mature ecosystems, Opside & its upcoming Foundation intends to lay the ground for an open, collaborative environment to decide on future integrations, upgrades and other cornerstone decisions to be made in the future road towards maturing custom scaling environments.
User perspective: IDE acts as a native coin to Opside, equal to ETH on Ethereum, utilized for paying for transacting within the network.
Q9: What are the next steps for Opside that we could expect?
A9: Opside has reached a crucial level of influence and adoption within the scaling landscape and with dozens of protocols integrating our architecture, we have reached a point where we are already receiving requests to make it possible for them to deploy such environments on our much anticipated Mainnet. In order to achieve this in a timely manner, we are looking at the final stages of Alpha Testnet deployment, which will include the last features left to be added and stress-tested, such as: – GPU Integration for ZK-POW mining – Cross-rollup Communication for Applications that have their own rollup to be able to seamlessly communicate with other Applications and rollups within the same base chain. – Sequencer Decentralisation and integration of third-party options on this matter, as well as more options from a DA (Data Availability) perspective. – Finalising application-level infrastructure support to offer a Plug&Play network of features that include Oracles (Price feeds & VRF), RPC/API Querying, multisite wallet, on-chain marketplaces for accessing liquidity, etc.
Q10: What role has OKX played in Opside's success so far?
A10: OKX has been key to Opside's success since the early days of Opside's Testnet, by becoming one of the first infrastructure partners of ours and offering full support from OKX Wallets native application (both on mobile, and web extension). Without crucial infrastructure partners like this, Opside would not be the full-potential product you can experience today, making it seamless to explore the innovative field of customized scaling and rollups. We look forward to deepening this collaborative effort between OKX and Opside, to jointly bring the industry forward and strengthen the wide array of products that can be offered to cutting-edge Web3 applications that require such features.
About Opside:
Opside, a decentralized ZK-RaaS (ZK-Rollup-as-a-Service) network featuring Zero-Knowledge Proof (ZKP) mining, is emerging as a leading force in the market. Its innovative approach, combining Proof of Stake (PoS) and Proof of Work (PoW), allows Web3 developers to swiftly generate a zkEVM application chain with a mere click. This action triggers an abundance of ZK-Rollups, creating substantial computational tasks. These tasks present an enticing mining prospect for global miners.
Twitter:https://twitter.com/OpsideZK
The Post OKX and Opside AMA Recap: How does Opside play a role in Scaling and ZK Technology? first appeared on ZEX PR Wire

Information contained on this page is provided by an independent third-party content provider. Binary News Network and this Site make no warranties or representations in connection therewith. If you are affiliated with this page and would like it removed please contact [email protected]