There's more to Aldi than just tomatoes, toilet paper and tea. The discounter regularly offers technology or even furniture with its promotional products. As of today, Aldi Süd has a product that even combines both – and is perfect for anyone who owns a modern mobile phone.
Bye, cable clutter! The modern mobile phone world is one thing above all: wireless. Every day we use cloud storage, streaming services and, of course, charge our smartphones wirelessly. Many mobile phones now have wireless charging and can be easily supplied with juice again without cables. However, the appropriate charging pad is necessary for this. If you don't have that, you can strike at Aldi Süd from today, May 30 and at the same time receives a chic piece of furniture.
Aldi offers a side table with integrated wireless charging function for mobile phones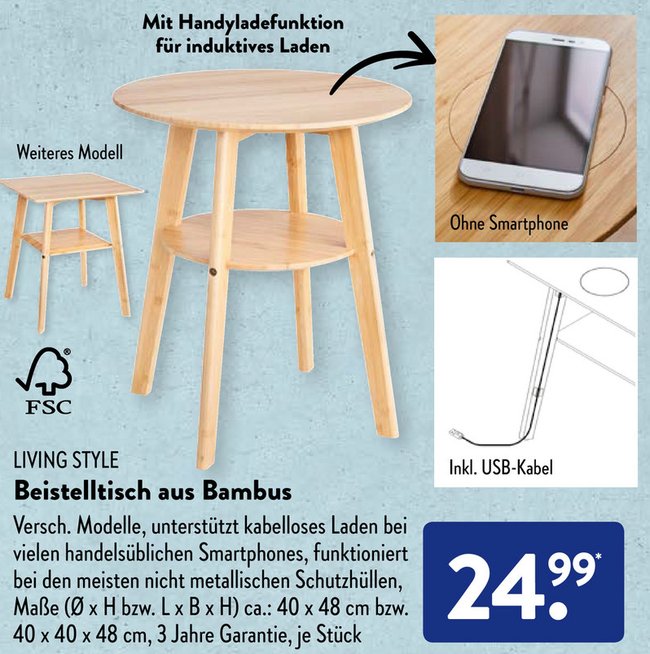 At Aldi Süd there are currently a side table made of bamboo. For 24.99 euros but if buyers do not receive a standard model, the side table of the brand "Living Style" can do more. A charging pad is integrated in its table top. This allows smartphones that have wireless charging to be charged comfortably without cables. Just put the phone in the right place – that's it.
Optionally there is the bamboo side table either with round or square table tops. The wood is FSC-certified, so it comes from sustainable and environmentally friendly forest management. Included in delivery also included is a USB cable, buyers obviously have to take care of a suitable power supply themselves. The Aldi prospectus does not provide any information on this. There is a total of 3 years warranty.
Amazon also has a small table with an integrated charging function. Although it is much more expensive at around 100 euros, it still offers a Bluetooth speaker (see Amazon).
How well do you know Aldi?
Does Scan&Go also come to German Aldi branches?
Even with Aldi itself, things could soon be more comfortable. The discounter is reportedly considering the introduction of Scan&Go in Germany. Annoying loading and unloading at the checkout would be eliminated. Instead, customers would simply scan the products themselves using a suitable smartphone app when they are placed in the shopping cart. Then only the payment is made at the checkout. The technology is already being tested in several Aldi branches in Switzerland.