Kuala Lumpur, Malaysia, 3rd Jul 2023 – Wilstech Sdn Bhd, the renowned technology company, held a night of prestige and excitement at their grand 5th anniversary celebration dinner at the Mandarin Oriental Hotel Kuala Lumpur. The event was graced by the esteemed presence of YB Datuk Ewon Benedick, Minister of Entrepreneur Development and Cooperative, as the Guest of Honour. The evening celebrated Wilstech's remarkable journey of innovation, highlighted by the launch of their groundbreaking eMOBIQ app and multiple Malaysia Book of Records recognitions.
YB Datuk Ewon Benedick's attendance added a touch of distinction and significance to the anniversary celebration, showcasing the government's recognition of Wilstech's exceptional contributions to the technology sector and their commitment to driving entrepreneurial growth. In his keynote address, the Minister emphasized the importance of innovation, entrepreneurship, and cooperative development in propelling economic progress.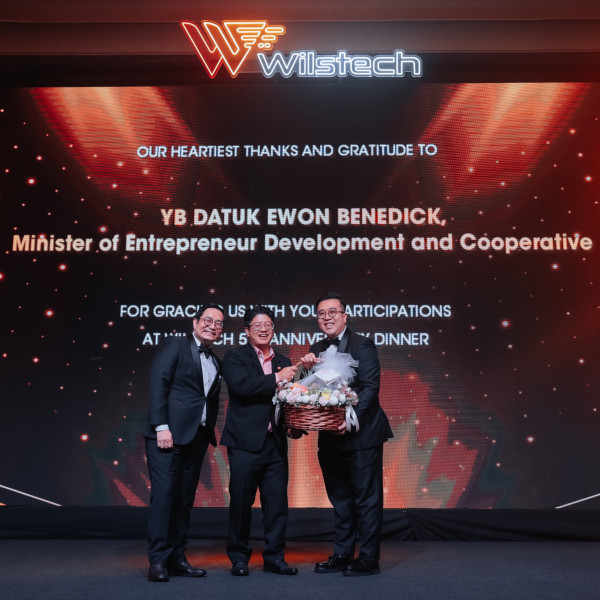 During the event, Wilstech was honored with multiple Malaysia Book of Records recognitions. They achieved the prestigious record for the "Highest Prize Money in a No-Code App Building Competition," highlighting their commitment to nurturing talent and promoting innovation. Additionally, Wilstech received recognition for organizing the "Most Higher Learning Institutions Participating in a No-Code App Building Competition" and hosting the "Most Participating Teams in a No-Code App Building Competition." These accolades underscore Wilstech's dedication to fostering collaboration, inclusivity, and excellence in the app development community.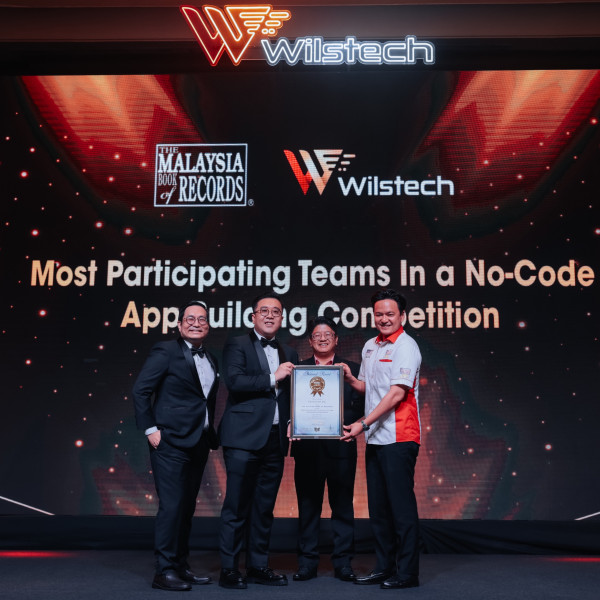 The highlight of the evening was the much-anticipated launch of the eMOBIQ app. Wilstech unveiled this groundbreaking solution designed to empower developers to build mobile apps without the need for extensive coding. With its user-friendly drag-and-drop interface, prebuilt templates, components, functions, and connectors, eMOBIQ promises to revolutionize app development, enabling rapid creation of customized applications.
Founder and CEO Wilson Low expressed his gratitude to everyone who has been part of Wilstech's incredible journey over the past five years. Wilson Low highlighted the significance of this milestone, stating, "This anniversary celebration is a testament to our unwavering commitment to pushing technological boundaries and driving entrepreneurial success."
Ernie Tan, Co-founder & COO of Wilstech unveiled Wilstech's future roadmap, giving attendees a glimpse into the exciting projects and advancements on the horizon. He spoke passionately about the company's ongoing research and development initiatives, showcasing Wilstech's dedication to pioneering groundbreaking technologies that will shape the future.
About Wilstech Sdn Bhd
Wilstech Sdn Bhd (Wilstech) provides B2B IT solutions specialising in ERP, HRMS & CRM solutions, custom web and mobile apps, web solutions, IT infrastructure, IT security and support services.
Media Contact
Organization: Wilstech Sdn Bhd
Contact Person: Joe Lim
Website: https://wilstech.com/
Email: [email protected]
City: Kuala Lumpur
Country: Malaysia
Release Id: 0307234445
The post Wilstech's 5th Anniversary Celebration Dinner Shines with eMOBIQ Launch and Multiple Malaysia Book of Records Recognitions appeared first on King Newswire.
Information contained on this page is provided by an independent third-party content provider. Binary News Network and this site make no warranties or representations in connection therewith. If you are affiliated with this page and would like it removed please contact [email protected]
Information contained on this page is provided by an independent third-party content provider. Binary News Network and this Site make no warranties or representations in connection therewith. If you are affiliated with this page and would like it removed please contact [email protected]