Bionl launches a revolutionary no-code biomedical research platform, transforming scientific exploration.
Boston, Massachusetts, 10th October 2023, ZEX PR WIRE,  Bionl, a pioneer in biomedical and bioinformatics research, is honored to announce its official launch. Bionl seeks to revolutionize scientific research by providing a platform that enables researchers, students, and professionals to investigate biomedicine using natural language queries. This revolutionary solution addresses significant challenges in healthcare science by making research quicker, more accessible, and requiring no extensive programming expertise.

Image Credits: Bionl
Bionl.ai is an advanced platform for rapid biomedical research that capitalizes on the most recent developments in natural language processing and artificial intelligence. It provides a unified workspace for exploration, analysis, and visualization, cutting down the amount of time required to complete complicated tasks from days to minutes.
Bionl.ai is the world's first Natural Language Processing (NLP)-enabled platform that does not require programming. By eliminating the need for programming skills, this cutting-edge instrument empowers healthcare scientists, Master's and PhD students, as well as professionals in biotechnology and pharmaceutical companies. It facilitates research with the Literature Review feature, eliminating the need for external bioinformaticians or programming specialists.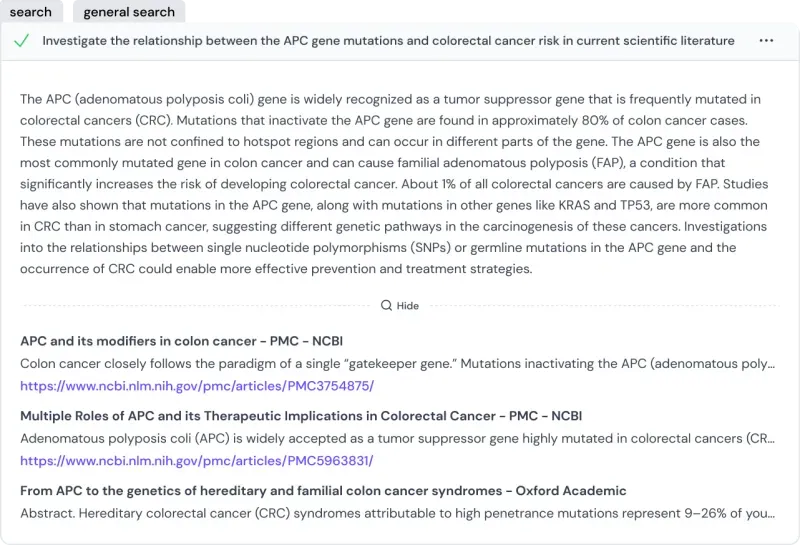 Image Credits: Bionl's Literature Review with AI
The inclusiveness of Bionl.ai extends to its adaptable plans, which accommodate a variety of research requirements. Team and enterprise plans facilitate effortless collaboration, while guided demonstrations provide individualized onboarding support. Compliance with HIPAA, GDPR, and ISO27001 is a top priority, and ongoing efforts are made to ensure security. Bionl.ai is a transformative force in biomedical research because it not only manages large datasets efficiently but also offers expert one-on-one support for users on Professional, Team, and Enterprise plans.
Additionally, Bionl offers GenAI for Data Analysis, a natural language-based technology that makes complicated data analysis accessible to researchers of all stripes. With GenAI, mastering steep learning curves is no longer necessary; data analysis becomes effortless and productive. In addition, researchers have access to an abundance of ready-to-use public data sets, which eliminates the laborious task of extensive data processing and expedites their research endeavors. Complementing these features is Bionl's Effortless Visualization tool, which facilitates the transformation of research findings into visually engaging formats, thereby augmenting communication and engagement with research stakeholders.
To learn more, please visit – https://www.bionl.ai/.
About Bionl
Bionl is a leading force in the fields of biomedical and bioinformatics research, and it has been a pioneer in both of these fields for many years. The goal of the company is to remove traditional roadblocks to scientific research by providing a platform that requires no coding and enables exploration, analysis, and visualization through the use of natural language prompts. This will enable the company to fulfill its purpose of empowering scientists.
The Post Bionl.AI Launches Innovative Platform for No-Code Biomedical Research first appeared on ZEX PR Wire

Information contained on this page is provided by an independent third-party content provider. Binary News Network and this Site make no warranties or representations in connection therewith. If you are affiliated with this page and would like it removed please contact [email protected]