While the overall crypto market seemed to recover significantly for the first time in weeks on the night of May 31, prices have been much calmer in the past 24 hours. In the early hours of yesterday morning, Cardano (ADA) was still up by more than 25 percent, while ADA investors today have to be satisfied with a minus of almost 9.5 percent.
But even in a less volatile market environment, there are winners and losers. Below are the three biggest winners of the top 50 altcoins in a 24-hour comparison.
Tron (TRX) Price: Investors:inside believe in Justin Sun
Justin Sun's crypto ecosystem Tron (TRX) continues to benefit from the Terra bust, as DeFi fans are unswervingly flocking to his network in search of a new safe haven. This is how investors are choosing the Tron (TRX) price as the winner of the day today as well. In a 24-hour comparison, the altcoin can make up 8.7 percent, currently trading at $ 0.0893.
Is the port really that safe? On closer inspection, it becomes clear: the similarities of the TRON ecosystem and new stablecoins with Terra (LUNA) and the TerraUSD (UST) are frightening.
Theta Fuel (TFUEL) Course: Altcoin gets Silver Medal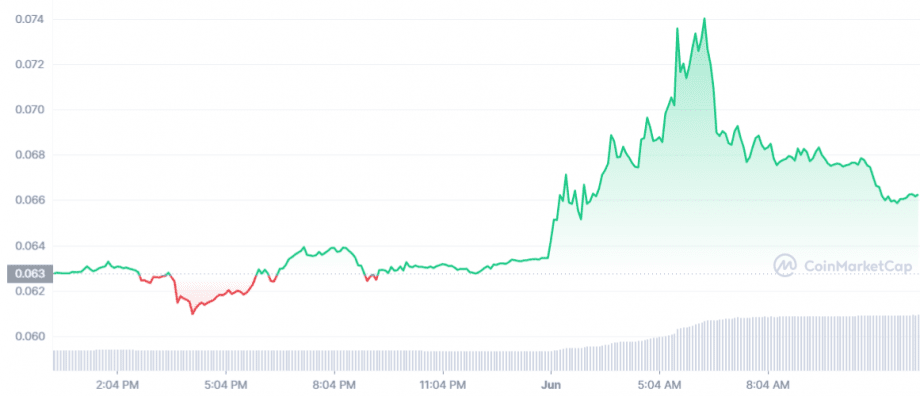 Theta Fuel (TFUEL) is one of two tokens in the Theta network and represents the gas token of the ecosystem. While Theta Network (THETA) is responsible for securing the network, TFUEL is used for the actual transactions.
Over the past 24 hours, the TFUEL price has risen by 6.18 percent, is trading at $ 0.0658 at the time of writing. However, Theta Fuel is still very far from its all-time high. The altcoin set this up pretty much exactly a year ago, on June 9, 2021, at 0.68 US dollars – today the cryptocurrency trades at just under a tenth of that.
KuCoin (KCS) Price: All-time high within reach?
The native token of the crypto exchange of the same name enables discounted conditions and special rewards in the KuCoin (KCS) ecosystem. In a 24-hour comparison, the price of the altcoin increased by 3.57 percent. KuCoin (KCS) is currently trading at a price of $17.79. The all-time high was set on December 1 last year at 28.83 US dollars – by then it is "only" just under 40 percent.
You want to buy cryptocurrencies?
eToro offers investors, from beginners to experts, a comprehensive crypto trading experience on a powerful yet user-friendly platform.