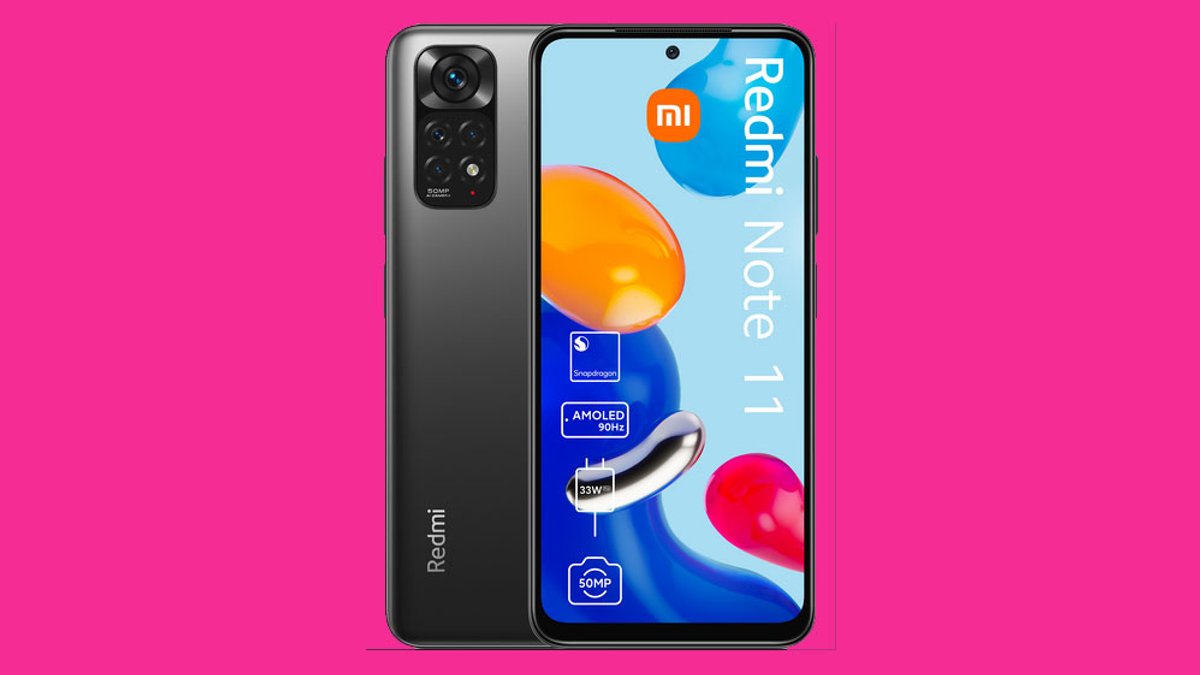 The new price-performance firecracker from Xiaomi, the Redmi Note 11, is available with a small telecom tariff at Klarmobil at an absolute bargain price. For around 12 euros a month you get the smartphone including Allnet / SMS flat and 6 GB data volume. We have calculated all the costs and revealed for whom the offer is worthwhile.
Xiaomi Redmi Note 11 with telecom tariff for € 11.99/month
Only in February the Redmi Note 11 appeared with us in Germany. Who can buy the price-breaker smartphone from Xiaomi in combination with a Allnet and SMS flat with 6 GB LTE data volume in the telecom network if you want to secure it, you should stop by Klarmobil. There you currently pay only 11.99 euros per month for the tariff bundle plus 39.98 once for additional payment and connection.
What's on offer at Klarmobil
The Xiaomi Redmi Note 11 is a comparatively inexpensive phone of the lower middle class with a lot of performance for little money: the smartphone has an above-average 6.43-inch AMOLED display with 90 Hz and FHD + resolution for the price. Another positive thing to highlight is the solid workmanship, the chic design and long battery life. Since it is an entry-level mobile phone, you should not expect any miracles in terms of performance and camera. As a processor, the already older Snapdragon 680 is installed, there is a 50 MP camera, 4 GB of RAM and 128 GB of memory. You are looking for a 5G module in vain, but this does not matter for the offer, since it is a pure LTE tariff.
Tariff details at a glance
Tariff: Klarmobil Allnet-Flat 6 GB LTE
Network: Telecom
6 GB LTE (up to 25 Mbit/s)
Allnet and SMS Flat
EU roaming is included
24 Months Contract term, 1 Month notice period
Xiaomi Redmi Note 11 with a tariff in the telecom network: that's why the bundle is worth it
The cost of the offer at a glance
Basic fee
(monthly)
11.99 Euros
Co-payment
(one-time, at the beginning of the contract)
19.99 Euros
Connection fee
(one-time, at the beginning of the contract)
19.99 Euros
Shipping
(unique)
0 Euro
Total costs after 24 months
(in case of termination at the end of the minimum contract term,
monatl. and one-time costs are added)
327.74 Euros
Device Value
(current online best price according to idealo.de )
181 Euros
Effective cost tariff
(Total cost less. Device value)
146.74 Euros
Effective cost rate per month
6.11 Euros
View the offer
According to the idealo price comparison, the Xiaomi Redmi Note 11 with 128 GB and 4 RAM currently costs at least 181 euros (including shipping). If you subtract this value from the 327.74 euros total cost for the bundle, there are still 146.74 euros left. This means that you are effectively paying 6.11 euros per month for the tariff – a very reasonable price for an Allnet and SMS flat including 6 GB LTE in the telecom network. If you prefer the o2 network, you should take a look at the current curved deals.
What's on offer at Klarmobil
However, the invoice with the favorable price will only be accepted if you cancel in time for the end of the minimum contract period. If you forget that, the contract will not be extended for another year, but can be terminated monthly from 2022.
How to find out for yourself whether a tariff is good, you will find out in our Video:
You don't want to miss any more news about technology, games and pop culture?
No current tests and guides? Then follow us on Facebook
(GIGA Tech,
GIGA Games)
or Twitter (GIGA Tech,
GIGA Games).